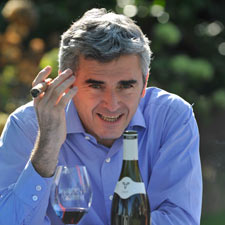 Franck Duboeuf at his winery in Romanèche-Thorins, France.
A Cigar With Beaujolais Star Franck Duboeuf
(continued from page 1)
"The nose is something we really don't develop enough," Duboeuf says, though he seems a bit hesitant, careful about choosing his words and not wanting to say the wrong thing. "It's really a shame. You have to start young, from childhood, concentrate on heavy aromas first." He dismissed the notion that the sense of smell diminishes with age. "You can forget many things, but not the sense of smell. It takes practice. If you've developed it your whole life, your nose may be the only thing you keep."
Started in 1964 by Duboeuf's father, Georges, Le Vins Georges Duboeuf has become the largest négociant of Beaujolais in the world, according to Wine Spectator, Cigar Aficionado's sister publication. Its portfolio includes Beaujolais, which is a wine made from a blend of gamay grapes grown in Burgundy, and 10 different Beaujolais Crus, which are village-specific wines using only gamay grapes from a certain area of the Burgundy region. The Beaujolais Nouveau is almost a different animal, celebrated every November for its ability to go from grape to glass in a matter of months. Franck entered the family business when he was 22, working on the production end. Now his official title is managing director.
"This year, we produced 165,000 cases of Beaujolais Nouveau," says Duboeuf, explaining how the wine is bottled in late October after undergoing carbonic maceration, a process where the grape is fermented before being crushed rather than after, resulting in a less tannic, fruity wine that's meant to drink young.
Photo by Philip Greenberg
Franck Duboeuf, center, uncorking the first bottle of the 2011 Beaujolais Nouveau at the NYC event. He stands with artist, Kaves, left, and Peter Deutsch, CEO, W.J. Deutsch & Sons, distributor for the Georges Duboeuf brand.
"My father has defined a style, a taste which is his signature Duboeuf wine," says Duboeuf. The "signature" taste, however, varies from wine to wine, Cru to Cru. He characterizes this year's Beaujolais Nouveau as fleshy and fruity, but describes other Beaujolais Crus like the Morgon using more specific tasting descriptors such as cherry jam, kirsch and fox fur (yes,
fox fur
). Rarified nuances aside, all Crus have a core palate of fruit. Because the company brings in grapes from all over the Burgundy region, Duboeuf spends most of the day sampling, drinking wines, taking notes and validating blends.
What he's looking for is a balance of aromas and fresh fruit, but at the same time needs a flavor profile that is, to his interpretation, the perfect expression of the gamay grape and the terroir of the area. It requires a sharp nose, trained palate and an elemental understanding of the soil. "You need an entire lifetime to fully understand a wine region," he says humbly.
Duboeuf is not as exacting as one might expect when analyzing cigars. He seems to turn off the analysis part of his brain and settle into more of a relaxation mode. "There's a beginning, a middle and the end when you smoke a cigar and each combine to deepen the experience."
And although he doesn't usually pair wines with cigars, he certainly allows parallels between the two. "You have the vine and the plant, the weather and the soil. And both tobacco and grapes are subject to a variety of influences. The terroir has an impact on the look, the smell and the taste of each. There is an element of fermentation and aging—each of which bring both cigars and wines to their best. Then there are similarities with packaging: the ring, the box, the label."
Duboeuf has been to Cuba and believes that cigars taste better when smoked on their home turf, as they tend to suffer a bit of travel shock after being shipped to retailers across the world. The same theory goes for wine. "The Beaujolais never tastes quite the same," says Duboeuf.
When asked if he ever smokes non-Cuban cigars, he replied: "You know, one time I was in a shop in Paris, and the manager said to me, 'Try this, it is the closest thing to a Cuban cigar.' Impossible, I thought. But he was right. Very close to some of the thicker Cuban cigars." It was an El Credito Serie R, a brand made by General Cigar in the Dominican Republic primarily for the European market, and Duboeuf carries around its 50 ring gauge Grand Robustos in his pocket right along with any number of Cuban Edición Limitadas. He hands me one and we take another sip.
Comments
1 comment(s)
C — November 22, 2011 10:56pm ET
---
You must be logged in to post a comment.
Log In If You're Already Registered At Cigar Aficionado Online