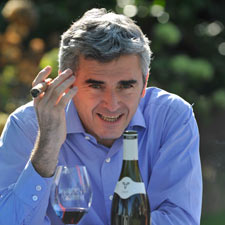 Franck Duboeuf at his winery in Romanèche-Thorins, France.
A Cigar With Beaujolais Star Franck Duboeuf
Winemaker Franck Duboeuf sits in the passenger seat of a tank-sized 1976 Cadillac Calais with a case of Beaujolais wine on his lap. Almost every inch of the car has been mercilessly covered in graffiti and it idles on 11th Avenue in a desolate area of New York City's industrial West Side. He clutches the case close to his chest and sits as still as a hostage in the car on this rainy afternoon. He's a long way from eastern France. Two large warehouse doors open up to a loading dock and the silent driver rolls the Cadillac at a hearse's pace into the building. The doors shut behind him. When he gets out of the car, Duboeuf is greeted with a standing ovation.
It's the third Thursday in November, and the audience has come to this converted warehouse space on Manhattan's West Side for the annual celebratory release of Duboeuf's Beaujolais Nouveau, a Burgundy wine that is harvested in September, bottled in October and rushed to market for immediate consumption with great fanfare. By tradition, it is not sold before the third Thursday of November, and the ceremonious uncorking is often quite festive.
Music thuds over the loudspeakers and Duboeuf gets on stage to introduce this year's release. This is his wine and his party.
"C'est incroyable," said Duboeuf, still in awe of such a reception. "You know, the official release date of Beaujolais used to be November 15, but once we moved it only one week ahead so close to Thanksgiving, things changed a lot. People were associating it with the holiday and the response became incredible."
Photo by Philip Greenberg
Franck Duboeuf hustles a case of Beaujolais from a 1976 Cadillac to the stage.
He takes a seat and looks around the room as the catering staff pours the Beaujolais. The space is dressed up to be something that is part art gallery, part studio and part graffiti-sprayed alley. Of course, we're not surrounded by real graffiti. It's more of a less aggressive interpretation—a caricature. Contained and safe. Graffiti, in this case, does not represent urban decay, nor is it whining for artistic legitimacy. This graffiti is simply self-expression—quick, colorful, stylistic—and such is the theme scoring the Georges Duboeuf 2011 Beaujolais Nouveau.
Before I take a sip of the wine, I offer Duboeuf a cigar: a Cohiba 1966 Edición Limitada 2011. Like the Beaujolais, it has just been released this November.
"Oh!" he says as he unfolds his glasses for a closer look. Duboeuf is a consummate cigar smoker and has been for 20 years. After a normal workday of tasting anywhere from 60 to 80 batches of fermented juice back at his winery in Romanèche-Thorins, he likes to have a cigar, usually Cuban, and not necessarily any particular brand.
"I very much enjoy the Montecristo Edmundos," he says. "And the Sublimes. I also like the Hoyo de Monterrey Petit Robustos and the flavor of the Romeo Short Churchills, but the Short Churchills I get always have a firm draw. I don't know why."
He tends to choose his cigars according to size, a lonsdale for one occasion, a short robusto for another mood or time of day. Sadly, we can't light up at today's uncorking, so we put the cigars aside, smell the wine and take a sip.
Comments
1 comment(s)
C — November 22, 2011 10:56pm ET
---
You must be logged in to post a comment.
Log In If You're Already Registered At Cigar Aficionado Online