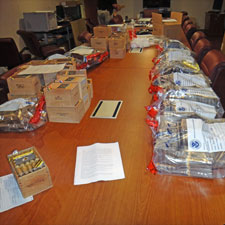 The fake Cohibas were being sold for about $20 each, and the seized contraband carries a street value of more than $60,000.
Authorities Nab 3,000 Fake Cohiba Cigars in Key West
Andrew Nagy
Posted: November 10, 2011
Purchased a Cohiba cigar near Key West, Florida recently? If so, you may want to double check the cigar's authenticity.

General Cigar, the exclusive owner of the Cohiba trademark in the United States, announced the seizure of approximately 3,000 fake Cohiba cigars Tuesday that were being sold as genuine Cubans in seven retail tobacco stores throughout the Key West area.

The seized cigars are, according to General Cigar, mostly counterfeit Cuban Cohibas. A photograph of the seized goods shows the cigars are clearly fakes. It appears the counterfeiters had affixed false yellow labels that "read" Cohiba to cigars and were packaging them in cabinet boxes of 25, some with clear acrylic tops.

In an attempt to make the cabinet boxes look even more authentic, the counterfeiters stuck giant stickers that read "Cohiba" to the cabinet tops. The fake sticker even has a silhouette on it that bears a small resemblance to the authentic Taino Indian image found on real Cuban cigar boxes. In addition to this sticker, the counterfeiters also placed a Cohiba logo on the upper-left corner of the boxes.

General Cigar said that some of the counterfeits were displayed in cigar boxes featuring the well-known red dot trade dress found on Dominican Cohibas.

According to a press release from General Cigar, the fake cigars were being sold for about $20 each, and the seized contraband carries a street value of more than $60,000.

General Cigar said it aided the U.S. Homeland Security Investigations, which was the lead law enforcement unit on the case. U.S. Customs and Border Protection, the Florida Alcoholic Beverages & Tobacco Bureau of Law Enforcement and the Florida Department of Law Enforcement also were involved with the investigation, which lasted about a year.

"The seizure of counterfeit Cohiba cigars yesterday represents a clear victory in General Cigar's fight to protect our cigar bands from counterfeiters and trademark infringers," said Dan Carr, president of General Cigar. "We look forward to continuing to cooperate with federal and state law enforcement officials in Florida and have offered to assist in any prosecutions and future investigations."
To learn how to spot a fake cigar, check out our Counterfeit Gallery.
You must be logged in to post a comment.
Log in if you're already registered.
---
---
Search our database of more than 17,000 cigar tasting notes by score, brand, country, size, price range, year, wrapper and more, plus add your favorites to your Personal Humidor.
---
---