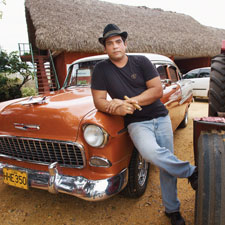 Hirochi Robaina, the new master of Cuchillas de Barbacoa, puts his stamp on the tobacco farm, but always remembers the lessons of his renowned grandfather.
The Grandson Also Rises
Hirochi Robaina, grandson of the late Alejandro Robaina, is a young Cuban farmer on a mission
(continued from page 1)
There were doubts that Hirochi could fill his grandfather's shoes, doubts from inside and out. "All the representatives of the tobacco sector doubted that I could maintain the same level of quality that my grandfather did. I had to struggle because the image of every producer is different. It's a matter of trust," he says.
His own workers even challenged him, only days after moving the seedlings into the fields, when it poured. "Three days after being planted out, on this field, it rained for the whole day. Twenty hours of rain. And the workers said we have to remove everything, it's too much water," says Hirochi. "I looked at the plants, I went back to the house and I grabbed a notebook from 1998. It was written by me. I had asked my grandfather through the years and I was taking notes all the time."
He found a passage about just such a problem and made his decision. "I said, 'We're not taking the plants out.' The workers said, 'This is not good.' I asked for a special mineral salt for the ground. We put a tiny amount in the soil to dry out the field. Under protest." He sits back in his chair, takes a puff of his cigar and puffs out his chest proudly. "That was the best lot of tobacco we had this year."
Another puff of his cigar. The Robaina pride flashes in his dark eyes. "People talk a lot," he says. Then a smile comes to his face. "You worry when the people don't talk."
He's already made changes to the way things work at the farm, but they embrace the Robaina tradition. Hirochi had heard the tales of the old fertilizers used in the early days, cotton seeds and peanuts. "My grandfather did it 45 years ago. The best is peanuts," he says. A chance meeting with a peanut farmer allowed Hirochi to get peanut seeds. Hirochi grew them into peanuts, then ground them into a powder that he sprinkled over the fields, a technique which hadn't been used at Cuchillas de Barbacoa in decades. Other farmers in the area, Hirochi says, don't believe in the method, although he says it was embraced long ago. "This method of using the peanuts for enriching the soil was widely used by American companies on the island before 1959," he says. "Also on El Corojo, by Daniel Rodriguez."
To hear him speak, one would think Hirochi was always a farmer, but that's not the case. Born in Havana in May 1976, he studied metallurgy in school and competed at judo until his teens. He made pizza, a job he did well and enjoyed, until he was 17, when his grandfather told him it was time to change jobs. Alejandro wanted Hirochi to begin working as a roller in a cigar factory. "My grandfather sent me to the factories, and at the time I never understood why," he says. He was stung by the decrease in pay the career change required—making pizza had earned him about 10 times what rolling cigars at the entry level would. But in time he understood his grandfather's logic.
"My grandfather wanted me to learn the whole process of making a cigar," he explains. "To produce and plant tobacco you need to know the whole handmade process. There is a synergy between the field and the factory."
He worked in the cigar factories during the week—first Partagás for one year, then H. Upmann for another—and would visit the farm on weekends for discussions with Alejandro. "Every day, I made two cigars of my own, and on the weekend took the cigars to my grandfather to get his opinion." Hirochi can still roll a very good cigar, which he did with flair at a small rolling table set up near the fields during our visit.
Stewardship of Cuchillas de Barbacoa skipped a generation—the farm went from Alejandro to his grandson, rather than to Hirochi's father, Carlos Robaina, who works at Havana's superb Casa del Habano at Fifth Avenue and 16th Street, aka Quinta Avenida.  "My father had a problem with his skin—he can't receive sun," explains Hirochi. "For him the sun is strong. Here all the job is in the sun. That's why he is in the shop. He comes here every weekend."
Alejandro was more than just a grandfather to Hirochi. He was a mentor, a master, a guide through life. And when Hirochi was a very young man his abuelo guided him through trouble with a simple card.
Comments
2 comment(s)
Rafael Vaghetti — Porto Alegre, RS, Brasil, — June 23, 2012 8:17am ET
---
David Savona — June 25, 2012 9:36am ET
---
You must be logged in to post a comment.
Log In If You're Already Registered At Cigar Aficionado Online