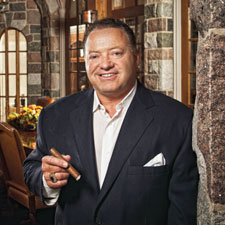 Photo/Dave Lewinski
Just Do It
Entrepreneur Tom Celani has built an empire of casinos, a Harley-Davidson dealership and a winery by always putting customers first.
(continued from page 4)
"The vineyard is one of my favorite spots for a cigar," he says. "People come to taste the wine and they can go in the humidor and grab any cigar and sit and enjoy it. It's gotten so that a lot of the limo companies tell their tour customers, 'Let's finish at Celani Wines because they don't close at 4 like the others.'
"I even took out two rows of grapes and put in a lighted bocce court. We smoke cigars and play bocce into the night—or until the neighbors squawk."
Contributing editor Marshall Fine writes about movies and entertainment at his website, www.hollywoodandfine.com.
You must be logged in to post a comment.
Log In If You're Already Registered At Cigar Aficionado Online