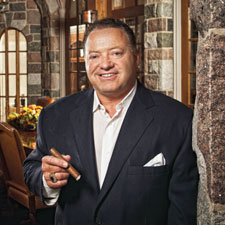 Photo/Dave Lewinski
Just Do It
Entrepreneur Tom Celani has built an empire of casinos, a Harley-Davidson dealership and a winery by always putting customers first.
(continued from page 3)
Celani is so convinced of the appeal of his product that he offers restaurants a guarantee: If a restaurant customer orders a bottle of Celani wine and doesn't like it, Celani Family Vineyard will refund the price of the bottle to the restaurant. So far, he says, it's never happened.
"We've got a great winemaker and passionate owners who are putting their tools together," he says. "It does take time to build a reputation—but once they try our wine, people become ambassadors for it. Because, if you enjoy a product and you like the story behind it, you tell it to someone else. And they'll buy it and try it themselves."
Celani and his wife have three children: Vinnie, 21; Olivia, 19; and Benny, 17. His success has fostered a concomitant belief in philanthropy: The Celanis' foundation is a major contributor to Central Michigan University, the College of Creative Design in Detroit and benefactor to a variety of hospitals and arts organizations in Detroit.
"Some guys want all the credit for things like that, but Tom isn't like that," says Gary Burkart, president of Celani Family Vineyards. "He does it; he just doesn't talk about it."
"If you do well in life, you should give back," Celani says simply.
At the end of the day, Celani likes nothing better than opening a bottle of wine, lighting a cigar and pulling up a chair at the outdoor fireplace overlooking the lake in his backyard.
"I tell my wife I'm solving the problems of the world," he says. "To me, a cigar is a symbol of relaxation."
Celani has humidors at home ("a nice little commercial one my wife got me as a gift"), at his vineyard, his Denver casino, his Harley-Davidson office and at the office of his gaming company. He also keeps one at the hangar where he keeps his Gulfstream jet: "We don't smoke on the plane," he notes, "but we do smoke before we get on the plane. In each of my humidors, I probably have 100 sticks or so."
Cigars, Celani notes, have changed their image drastically since he was a kid: "When I was growing up, the guy pouring cement would have a stogie in his mouth while he was using his trowel," he says. "Now it's been elevated to the level where business guys get together and enjoy a fine cigar. How much business gets done in places like the Grand Havana Room in New York?"
Celani has made sure to make his various enterprises as cigar-friendly as possible. At Oakland Hills, the country club that abuts his property, he's had chairs installed around the 18th green, where golfers can relax and enjoy a smoke after finishing their round. His Fortune Valley Hotel and Casino features one of Denver's only heated cigar patios. And Celani Family Vineyards is one of the only cigar-friendly vineyards in Napa Valley.
You must be logged in to post a comment.
Log In If You're Already Registered At Cigar Aficionado Online