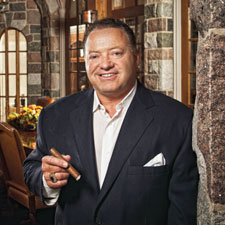 Photo/Dave Lewinski
Just Do It
Entrepreneur Tom Celani has built an empire of casinos, a Harley-Davidson dealership and a winery by always putting customers first.
(continued from page 2)
In turn, his involvement with Harley-Davidson has helped his work with tribal casinos: "When you're on the reservations, dealing with the chief, they never trust developers—here's another white man, and the white man took our land and left us with a lot of desert and swamp," Celani says. "But when they heard I was a Harley guy, the conversation changed. They knew I wasn't some Slick Willie from Vegas, that I have some values. Because either people are Harley riders—or they want to be."
He's proud of his involvement with Harley and well aware of just what the name means.
"No one has the kind of brand awareness that Harley does, except maybe Coke and Pepsi," he says. "Harley-Davidson is right with them. It's the No. 1 tattoo in the world—I don't remember people putting 'Coca-Cola' on their arms."
Celani himself owns two Harleys, including a vintage 1992 Moonglide ("They made 2,500 of them."). "I get a new bike every year," he says. "When I go touring, I take the new one, which has GPS, fuel injection, an iPod dock — the works. But in the city, I'll take the '92, which is loud and shakes a little."
Celani's Bloomfield Hills estate includes a 10,000-square-foot home built on 20 acres on a lake, with a pool house. His garage contains a couple of Celani's prize possessions: a beautifully restored 1955 Chevrolet Bel Air and a 1966 Ford Mustang Cobra ("It's so loud and it leaks oil. I run it on racing fuel").
"I do love American muscle. That 1960s, early 1970s period was phenomenal," he says.
He also owns a Ferrari Enzo and was just selected to be one of 17 people in the United States to buy the new Ferrari SA APERTA, of which only 80 were built. To get it, he had to submit a resume and an essay on why he deserved to be chosen.  "And then someone told me that once they heard I had a vineyard, the Italians thought I'd be a good guy to have one."
The cost? "I don't know yet—probably in the $700,000 range," he says. "But I'm a car guy. To me, it's like buying a piece of art."
As engaged as Celani is with his casinos and his motor sports business, it's not hard to tell where Celani's heart really is: in Celani Family Vineyard, the 20-acre vineyard he bought in 2005 in Napa Valley. He quickly hired noted winemaker Mark Herold and produced wine that very year—and continues to expand the boutique label. The vineyard sells out its annual production of 5,000 cases (divided among five varieties), though, as Celani puts it, the enterprise is "still a nonprofit."
"I spend a lot of time on wine," he says. "I've got a great winemaker and I enjoy going out and selling. We're nurturing our national growth. It would be easy to just nurture our Michigan business, but I'm taking it to the national level, building a core business with fine restaurants like Morton's, Capital Grille and McCormick & Schmick's. We're going up against 5,000 wines and the list at Morton's is only 250 or 300 wines—including ours. The same with McCormick & Schmick. Their list has maybe 100 wines. It's the shortest list I've ever seen. And we're on it."
The key to getting his foot in the door at restaurants? "I won't sell it to them unless they let every waiter taste it," he says. "You can't sell a wine if you don't believe in it yourself; the only way for the waiters to have the confidence to recommend it is to taste it."
You must be logged in to post a comment.
Log In If You're Already Registered At Cigar Aficionado Online