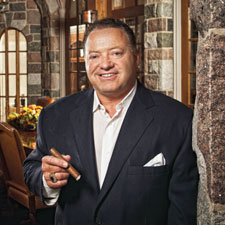 Photo/Dave Lewinski
Just Do It
Entrepreneur Tom Celani has built an empire of casinos, a Harley-Davidson dealership and a winery by always putting customers first.
(continued from page 1)
At the end of his first semester, however, his mother was diagnosed with cancer.  "That was Christmas 1974—and so I left school to be home with her for the time she had left," Celani says. "It was the right decision."
Instead of returning to college, he went to work for his father, who had turned a distributorship for Hamm's Beer into the biggest distributor for Miller Beer in the state. Though Celani had done physical labor in his father's warehouse as a teen, his father "elevated me to the office. He put me on the street, selling to stores. I learned as much as I could there."
But when his father died of a heart attack in early 1982, Celani found himself the new president of a beer distributor doing $50 million a year in sales.
"The first day after the funeral, I went into the office and looked at the paperwork and thought, how am I ever going to fulfill this the way he did?" Celani says.
He also had a phone call from Leonard Goldstein, then-president of Miller and a longtime friend of Celani's father. Goldstein told him that Miller executives were worried that Celani was too inexperienced and were considering forcing him to sell. "Then he told me he had gotten me 12 months of probation, and for that period he was going to be my best friend and get me through it. I was 26 with no formal college education, so for him to step in and take me under his wing was huge. And it's only because of his friendship that I got through."
The key piece of advice he received from Goldstein?
"He told me to remember my dad's core values—and what my dad did well was maintain his relationship with customers," Celani says. "Leonard also told me to never be afraid to hire someone who was smarter than me. If you know your weaknesses, you hire to fill those holes. Sometimes that's not easy to do, because your ego gets in the way. But the only way to grow a business is to surround yourself with smarter people. You never stop learning. You just keep asking questions. And you learn."
Over the subsequent decade, Celani happened into several business opportunities that seemed small to start with but which grew into major moneymakers. At one point, Celani was offered the chance to buy a company that produced slot machines—and then won the contract to supply slots to the newly opened Native American casinos that began to spring up around the Midwest and the rest of the country.
Selling that company for a large profit, he joined a group that spearheaded a 1996 referendum to legalize commercial casinos in Michigan. He then brought casinos to Detroit, owning and later selling his interest in several casinos in Michigan and Lake Tahoe (including the Cal-Neva, which was once owned by Frank Sinatra). He currently owns casinos in Denver and Oklahoma, with hopes of opening one in California, north of his vineyard.
The Harley dealership was another case of being in the right place at the right time, thanks to a lawyer friend who had a client who was about to lose the dealership. Celani was able to use his contacts with Miller Brewing, which is a Milwaukee neighbor of the Harley-Davidson corporate headquarters, to make a call and help him buy the franchise.
You must be logged in to post a comment.
Log In If You're Already Registered At Cigar Aficionado Online