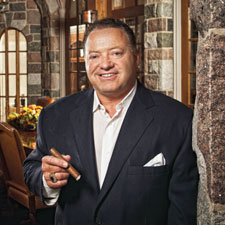 Photo/Dave Lewinski
Just Do It
Entrepreneur Tom Celani has built an empire of casinos, a Harley-Davidson dealership and a winery by always putting customers first.
Tom Celani reclines in a beige leather easy chair in the vaulted confines of a sitting room ("My man cave," he jokes) off of the massive two-story dining room/wine cellar (containing more than 5,000 bottles) in his Bloomfield Hills, Michigan, home.
He takes a sip of Ardore red wine, produced at his vineyard in Napa Valley, then indulges in a satisfied puff from a Fuente Fuente OpusX and considers two of his greatest pleasures in life.
"I think cigars are a lot like wine," he says. "You know when you taste it whether it fits your taste buds.
"I grew up in the beer business where people are loyal to one brand. But with wine, people enjoy traveling around and drinking different wines from different places. That's why I have a wine cellar and collect wines. Cigars are the same way. I enjoy an OpusX at certain times, though it can be a little strong for my taste. But one of my favorites of all time is the Zino Platinum Chubby Especial from Davidoff. It's got the easiest draw I've ever had. It hits me perfectly."
Sipping wine and savoring a cigar, Celani is the picture of the successful entrepreneur and businessman. He inherited a business at 26—but in the subsequent 30 years, he has built an empire.
That empire includes his vineyard, casinos in various parts of the country and the largest Harley-Davidson dealership in the Upper Midwest, Motor City Harley-Davidson in suburban Detroit's Farmington Hills (as well as Motor City Power Sports, which sells snowmobiles, Jet Skis, ATVs and the like).
Every facet of his various enterprises reflects his personality: a guy who loves to mingle and shmooze with his customers, to offer the personal touch in an era when corporate and multinational interests dictate just the opposite.
"I love the entertainment business," he says. "I love being with people. I love that energy. The saying is that a casino is a bank surrounded by a circus —and I don't like being in the bank. I can talk to anybody in the casino. I can talk to the whale who's betting $10,000 a hand or the grandma who's putting pennies in a slot machine, who wants to talk about the buffet.
"People love to know the owner of the casino is a gamer. I understand how they feel. I love the energy of the entertainment business with people having a good time."
The office for his gaming interests, Luna Entertainment, is a few miles down the road from his Harley dealership, where he also keeps an office: "I've had the office at Motor City Harley for 14 years and I love the atmosphere—I love the energy in that building. I need people."
If there's a key to Celani's success with people, it's that he's a natural salesman. "It's a gene," he says, one that he inherited from his late father.
Celani likes to say that "I learned the beer business with a broom," growing up working in the Miller Beer distributorship his father built in Detroit, after years as a beer delivery truck driver. His father wanted Celani to skip college and come to work for him; Celani, however, had dreams of playing Major League Baseball. As an all-state third baseman in high school, he took a baseball scholarship to Central Michigan University.
You must be logged in to post a comment.
Log In If You're Already Registered At Cigar Aficionado Online