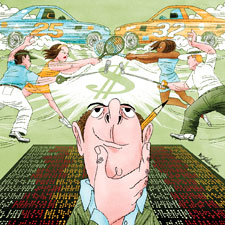 Illustration/Ed Fotheringham
Wagering 1-on-1 Sports
Sports bettors find an edge when athletes compete as individuals rather than teams
(continued from page 2)
Considering his approach to successfully betting on head-to-head outcomes, Sam likens it to beating the stock market by "becoming fully aware of, say, a small niche in consumer goods." Backing up the claim, he has bet heavily (and strategically) on the outcomes of events that range from presidential elections to the Academy Awards to "American Idol."
"I bet $10,000 on 'American Idol,' " says Sam, "and I had a good year with that TV show." Other unlikely spots where gamblers can find advantages are with sports that remain obscure by American standards. Alf Musketa has made himself an expert at darts and snooker, which present good opportunities at low stakes. A gambler who posts online as Goats has focused on NFL proposition bets, wagering on whether one quarterback will throw for more yardage than another one or if a running back will out-rush his counterpart on the opposing team.
Goats uses fantasy football information as a base and then builds in his own opinions and stats before putting up money. "One thing you can look for are large-spread games," he advises. "If the line is seven or higher, you expect that the underdog will need to throw more and run less in order to catch up. And the big favorite, if they're up, will probably hand-off more in order to run out the clock. You'll be looking to play the quarterback in a matchup if his team is a major dog."
Whatever corner of head-to-head betting you decide to focus on, be cognizant that it takes diligence, studying the players and reaching a strong opinion on one end of it or the other. On the upside, though, the bookies and oddsmakers rarely have time to thoroughly investigate small-market bets that generate way less revenue than mainstream NFL or NBA wagering. And sometimes the most obvious things are overlooked.
In 2008, during the Scottish Open, for example, Musketa happened to catch a Tweet from John Daly. "He wrote, 'I'll be lucky if I can tee it up on Thursday and can barely get through the ball,' " remembers Musketa. "I found only one matchup for Daly, against Colin Montgomerie, and I played that until the casinos took it down. Daly played nine holes before quitting and it made me a winner no matter what Montgomerie shot. You don't get information like that on an NFL game." Savoring the easy money, Musketa smiles and says, "I keep a file with all the golfers' Tweets. I've discovered that you never know what they'll say on Twitter"—or how handsomely it might pay off.

Michael Kaplan is a Cigar Aficionado contributing editor.
You must be logged in to post a comment.
Log In If You're Already Registered At Cigar Aficionado Online