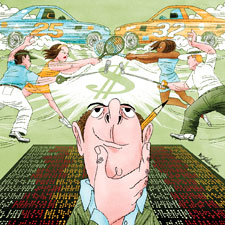 Illustration/Ed Fotheringham
Wagering 1-on-1 Sports
Sports bettors find an edge when athletes compete as individuals rather than teams
(continued from page 1)
"I bet $500 to win $20,000," he remembers. "We did everything right: we came up with the right number, we found the right price, we got our bet down and everything was going the way it should have. Sterling was winning the whole race. He was ahead of everyone with just half a lap to go. Then we saw his car starting to shake. He ran out of gas just before the finish line. All he needed was fumes for us to win the 20 grand! That one hurt."
However, that's the less likely outcome. Krackomberger opens up his laptop, logs onto a betting account and scrolls down the screen, exposing one payoff after the other, showing me that incidents like the Sterling fiasco are indeed rare. "If I told you our win percentage at NASCAR no one would believe it," he says. "So I'm not going to tell you."
A bit less esoteric and, therefore, more prevalent in the Las Vegas sports-books are golf matchups. In these, you bet on an individual golfer to beat another golfer. Or else you can take a do-it-yourself approach. Baxter recalls going out on the PGA tour with other gamblers and literally betting on the entire field, matching up one golfer over the next. "When you get down to the 60th or 65th player, that's where the real skill level comes in," he says. "You need to have an opinion on golfers that a lot of people don't know very much about."
Along the way, Baxter also gleaned some concrete insights about betting golf matchups in general. One of them is to keep an eye on how a player finishes the previous day's round. "It matters what they shoot on the back nine," says Baxter. "Two guys can both have a score of 72, but if one guy finished with a 39 and the other guy finished with a 32, it can mean something. Maybe the guy who shot 32 on the back found something that works for him and the guy with the 39 is all screwed up in the brain. Your mental state of mind when you come off the golf course is very important."
Golf also happens to be a sport that lends itself well to analysis. Sam feeds loads of information into a computer and has a software program that does the heavy lifting. He includes course history, form, whether the golfer is improving or declining or staying the same, who he's matched up against and how his style lends itself to a particular type of course. Here's how critical that last element can be. "The No. 1 player in the world is Luke Donald, and I don't ever see him winning a Masters," says Alf Musketa, a sports bettor who favors head-to-head wagering. "He doesn't hit the ball long enough from the tee. He's always going to be matched up against somebody at the sports-book—and if he's matched up against the right guy, on the right course, I'll take the other guy."
It also pays to look for people who are suddenly underperforming or who have patterns of underperforming during pertinent conditions. Musketa has done well this season betting against Ernie Els, Tiger Woods, Padraig Harrington and Anthony Kim. "It's easy to play lousy golf," he says, adding that it's worthwhile to figure out which golfers lose their drive if they shoot badly on day one or three. "When I find a guy who's struggling, I look for opportunities that will allow me to go against him in his next match."
Having a reliable contact with inside information doesn't hurt either. Working with a partner in Myrtle Beach, South Carolina, Krackomberger got a report from the massage table of Greg Norman. "I heard that he had just gotten massaged, he hurt his right ankle, and that he would play a couple of holes in order to satisfy a sponsor," remembers Krackomberger. "I ran around town, looking for every matchup possible against Greg Norman. I got down a high five-figure sum all told. Norman shot something like a 92 and barely finished the round. That illustrates the power of information." Half-laughing, he adds, "I'd say that we had a one-million percent edge on that bet."
Nice as it may be to have inside information, it definitely is not integral and, in some cases, the information doesn't even need to be all that inside. Recently, Billy Baxter happened to be watching tennis on television and he heard something that should have seemed like solid-gold to any serious sports bettor. "Two weeks ago I bet against Novak Djokovic," recounts Baxter. "I was listening to John McEnroe and those guys, and they were talking about all the hard matches that Djokovic had. They were almost predicting that he would not be able to finish this upcoming match against Andy Murray. I took Murray at 3-to-1 and couldn't believe that the price was that high, especially after what was being said about Djokovic." The commentators were right. "He just quit in the middle of the second set!"
Admittedly, that's the kind of circumstantial information that no sports bettor can make a living off of. It just isn't put out there frequently enough to amount to a decent earn. But if tennis is your game, there are other opportunities for finding head-to-head advantages. Begin by factoring in the standard issues: whether or not a player is successful on a particular surface, if he does better during the day or at night, if he's playing without a break and how that might impact his competitiveness, the history of players against one another and the ways in which their styles mesh. Then, beyond that, there are other, less obvious, elements to consider.
For instance, keep in mind whether or not a player puts in a full effort when a match is less than critical. Also look at the reason why a superstar is playing a particular match. "The best plays in tennis are the big underdogs against a disinterested favorite," says Sam. "Serena Williams playing a mid-level female is an example of that, especially if she hasn't played for four months and is using the tournament as a tune-up. Beyond the fact that she's always overrated [and, thus, overpriced] by the books, for her opponent it's the match of a lifetime while the Williams sister doesn't really care."
You must be logged in to post a comment.
Log In If You're Already Registered At Cigar Aficionado Online