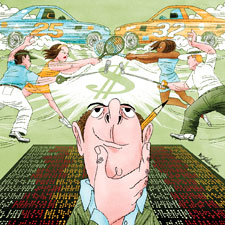 Illustration/Ed Fotheringham
Wagering 1-on-1 Sports
Sports bettors find an edge when athletes compete as individuals rather than teams
If it's golf season on a Tuesday afternoon in Las Vegas, then it is a lock that Bill Krackomberger will be cruising the casinos and placing bets on matchups for the coming week's tournament. After getting the go-ahead from a partner who researches 18-hole pairings, Krackomberger leaves his Las Vegas high-rise and hits the sports-books by mid afternoon. List in hand, he looks for what he perceives to be miscalculations on the parts of the bookmakers. While the rest of the world aims to bet on that night's Major League Baseball, Krackomberger is focusing on one-to-one matchups—sports that pit individuals against one another rather than entire teams.
Krackomberger has no qualms about wagering on teams, but astute gamblers know that betting on athletes in individual sports can have certain advantages. For starters, they can be more accurately handicapped. When you have one player going up against another, there is less likelihood that outside elements—say, friction between a coach and a quarterback—will enter into the mix and sour an otherwise well-considered opinion. Additionally, as one bettor puts it, "Players in one-to-one sports tend to play truer to form." In other words, there are fewer upsets and things tend to go the way that you think they will.
During a good day, Krackomberger will place anywhere from five to eight different bets. Or else, when the situation warrants it, he bets for or against one key golfer in every possible scenario. "If we hear that he's on his game, or the opposite, we wager in the appropriate direction," says Krackomberger. In time for a late dinner, he gets down all the action he needs for the coming week's rounds of golf. "Then it's just a matter of sitting back, waiting until Sunday night and seeing how we have done."
Favorite sports for the one-on-one professionals include golf, tennis, NASCAR and boxing. Though the latter of these has become increasingly difficult to beat, with long odds for favorites that are often tough to overcome, the simple act of remaining focused can often pay dividends. Billy Baxter, a veteran sports bettor who's managed champion fighters and knows the boxing world as well as any gambler, discovered that he was on the wrong side of a bet just by looking at a contender before the weigh-in and after.
It happened in 2008 when Oscar De La Hoya fought Manny Pacquiao. At the weigh-in, where De La Hoya tipped the scale at 147 pounds, Baxter believed that he looked good. Considering that he'd have a day to bulk up, says Baxter, "I figured that he'd come back at 160. But when I saw him on the night of the fight. I immediately got off of my bet. He came back at 147 and looked like a shell of himself. I never saw anything like it."
It was a bout in which De La Hoya got famously creamed to the point that the match served as his swan song from the sport. But if the fighter got massacred, Baxter managed to leave the MGM Grand, where the bout took place, unscathed and with his bankroll pretty much intact. He reversed his bets, by wagering in the opposite direction, before the first punch was thrown.
When Bill Krackomberger and his partner, who goes by the single moniker of Sam, tell me that they bet NASCAR, I look at them with disbelief. They're a couple of action guys from South Jersey, and stock car racing just does not seem to be in their DNA. What dominates their genes, however, is winning money through gambling wherever they can find an edge. A good sign that there are soft lines to be taken advantage of in NASCAR? "Las Vegas usually doesn't put up player vs. player in NASCAR because the casinos were getting beaten up," says Krackomberger over a fancy Chinese dinner at Blossom, a stylish restaurant inside Aria at City Center. "They only do it when the race is taking place in Vegas."
Decisions for Krackomberger and company are informed via a combination of analysis, inside information and looking for more than what is readily available to the general public on the Internet. "We've been involved with a guy who knows everything about pit crews and about which cars are training well," Krackomberger says. "For example, it's real important to have a guy on the track, timing cars going around before the race, on hot tires." The term "hot tires" refers to what happens after a stock car has completed eight or 10 laps through the course of a practice session.
According to Krackomberger, the hot-tire times are much more telling than the widely disseminated cold-tire times that are used to determine pole positions.
But sometimes, even all the information in the world will not be enough to overcome the flukiest of freak incidents. He recalls a race from some years back in which he and his partner had handicapped driver Sterling Marlin as a 10-to-1 shot to win the race and the sports books had him at 40-to-1. It was a serious miscalculation and Krackomberger took advantage.
You must be logged in to post a comment.
Log In If You're Already Registered At Cigar Aficionado Online