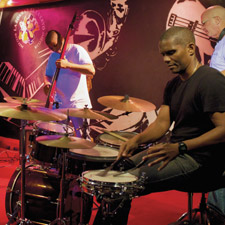 La Zorra y el Cuervo welcomes Cuba's top musicians such as Roberto Fonseca and his band.
The Sounds of Havana
From Jazz to Cuba's native Son, the music scene is alive and vibrant
(continued from page 2)
Sister club to the downtown version of Casa de la Musica, Centro.
Teatro Nacional de Cuba
Calle Paseo y 39, Plaza de la Revolución
Tel: (537) 879-6011
There are two venues in this location: Café Cantante Mi Habana, and El Delirio Habanero.
Cabarets/nightclubs
Tropicana
Calle 72, entre 41 y 42
Marianao
Tel: (536) 267-1717
This is an institution in Havana. The shows are true Vegas-style spectaculars. There are huge, two-hour dance numbers with music and other acts. Dinner is included with most of the higher ticket prices, but the word is don't count on anything but very ordinary food. A bottle of rum is included. Make sure you opt for the 90 cuc ticket because that will be your only guarantee of getting a decent seat.
Cabaret Parisien
Calle O, esquina a 21 (Hotel Nacional)
Vedado
Tel: (537) 836-3564
Another Tropicana-style cabaret show. The theater is at the Hotel Nacional. It's a much smaller venue than the Tropicana, but would best be described as a dance and musical review.  The word here is eat somewhere else, buy your tickets through the hotel for the show itself and enjoy the music while sipping on a cocktail.
Habana Café
Av. Paseo, entre 1ra y 3ra (in Hotel Meliá Cohiba)
Vedado
Tel: (537) 833-3636, ext 2710
Situated 50 yards from the front entrance of the hotel.
You must be logged in to post a comment.
Log In If You're Already Registered At Cigar Aficionado Online