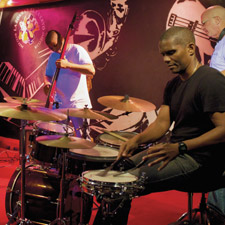 La Zorra y el Cuervo welcomes Cuba's top musicians such as Roberto Fonseca and his band.
The Sounds of Havana
From Jazz to Cuba's native Son, the music scene is alive and vibrant
(continued from page 1)
Gato Tuerto
Calle 0, entre 17 y 19
Vedado
Tel: (537) 836-0212
Within view down the hill from the twin towers of the Hotel Nacional, this multi-storied club is always packed. You are almost always certain to be surprised by who shows up on stage­—either scheduled, or to jam with the featured artist. On our December 2010 trip, we heard Ela Calvo there; she's performed with Omara Portuondo and the Buena Vista Social Club during their heyday, and she carries her 79 years like a much younger woman.
It is very crowded, and with big poles throughout the room and standing room only at the bar it can be a little hard to see, but the sounds wash over the entire room. 25 cuc fee.
Jazz Café
1ra, esquina con Paseo
Vedado
Tel: (537) 838-3302
On the second floor of a big-box-style store, reachable by a long winding ramp up to the Jazz Café, is one of the larger rooms in the Havana music scene. There's a big bar with a TV going, and while the seating area is ample, it's often filled up. A short walk across the Paseo from the Meliá Cohiba, it's easy to get to or to find a taxi from late at night. We heard Roberto Fonseca here too. Not much atmosphere given the kind of exposed steel beam décor, but that doesn't affect the music.
Don Cangrejo
Av. 1ra, entre 16 y 18
Miramar
Tel: (537) 204-4169
This is a large outdoor bar around a big pool. When we went, it was packed with an under-30 crowd of locals, all moving to the sounds of Kelvis Ochoa. We could have been in South Beach, not Havana. The music. The outfits. The beautiful people. Quite a scene on a Friday night.
The following clubs have not been visited. But they are on "the circuit" in Havana, and on any given night, you may find one of your favorite musicians, or a real star, on stage playing. We'll provide numbers so you can call, or have your concierge call, to find out who is performing.
Casa de la Musica Centro Habana
Calle Galiano entre Neptuno y Concordia
Centro Habana
Tel: (537) 862-4165
Casa de la Musica Miramar
Calle 20, No. 3308, esquina a 35
Miramar
Tel: (537) 202-6147
You must be logged in to post a comment.
Log In If You're Already Registered At Cigar Aficionado Online