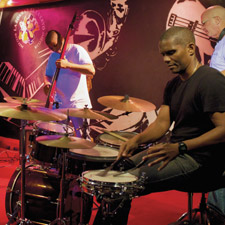 La Zorra y el Cuervo welcomes Cuba's top musicians such as Roberto Fonseca and his band.
The Sounds of Havana
From Jazz to Cuba's native Son, the music scene is alive and vibrant
Sometimes walking down a street in Havana from late afternoon into the wee hours, the walls echo with the sounds of music. A tight Son beat drifts out from a small stage occupied by a jazz combo at the Café Paris. The soft rhythm of an acoustic group with a guitar, a bass and a tambourine back a silky voiced singer in La Bodeguita del Medio.
The smoky air hangs heavy in the basement lair of La Zorra y el Cuervo where Roberto Fonseca's fluid modern jazz band, led by renowned saxophonist Javier Zalba, accompanies his astonishing keyboard work. Or stick your head into the Cabaret Parisien at the Hotel Nacional and watch the full dance and musical review that seems to be an entertainment staple in Cuba.
Cuba's best musicians travel the world today plying their trade, and often, when you see a fancy new BMW in the streets of Havana, it belongs to one of these musical superstars, a luxury not available to a normal Cuban worker but a symbol of how highly they are valued by the government.
The music they are creating is, according to the experts, some of the best jazz being played in the world today, and the Caribbean-and African-influenced music, among them the local music known as Son, is some of the most compelling and vibrant in the world.
The Cubans' innate sense of rhythm and melody are exciting, and on any given night in Havana, you can hear those musicians in a long roster of nightclubs, jazz bars and cabarets. We only managed to make it to five different outposts including one cabaret and one dance club, Don Cangrejo. But both offer different kinds of shows and music from the jazz clubs on any given night, so you might hear a jazz band one night and watch a highly choreographed dance show the next evening. You won't be bored.
The best advice is to hire a driver for the night. The shows often don't start until sometime between 10 and 11 p.m., and an 11:30 start isn't out of the question. If you want to hit more than one spot, it's imperative you have transportation because it will be late and taxis might be hard to find. Expect to pay anywhere from 10 cuc to 25 cuc for the entrance fee at the smaller clubs. The Tropicana show, which we haven't been to in years, is a bit different.
It starts at around 8:30 with dinner included, and for that, expect to pay close to 100 cuc for the best seats. Is it worth it? It is a true spectacular of dance and music and, like going up the Eiffel Tower or to the top of the Empire State building, it is something every visitor to Havana should do at least once.
But the real treasures are in the jazz clubs. Here are our favorites:
CLUBS
La Zorra y el Cuervo
Calle 23, entre N y O
Vedado
Tel: (537) 833-2402
In any given month, this club offers up the best of Cuba's top musicians. We heard Roberto Fonseca here. The basement room, which you enter through a London-style red telephone booth is small and low-ceilinged. Not really a bad seat in the house, but get there early and have a few drinks if you want to be close to the stage.
You must be logged in to post a comment.
Log In If You're Already Registered At Cigar Aficionado Online