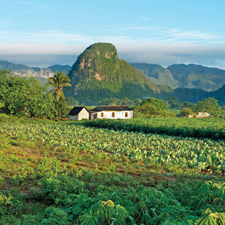 Not far west of Havana lies the Cuban province of Pinar del Río, home to some of the most fertile lands on earth and the world's greatest fields of premium cigar tobacco.
A Day Trip to Pinar del Río
Take a break from the city in the relative quiet of western Cuba
(continued from page 1)
Casa del Tabaco
Calle Antonio No. 160, Pinar del Río
Directly across the street from Francisco Donatién is a superb cigar store, far better than the one within the cigar factory. This shop was once a Casa del Habano, and while it no longer carries that distinction, it's a lovely shop with several relaxing areas to puff on a cigar.
The shop is big, wide and inviting, and it is well decorated with old cigar advertisements, maps, antique humidors and the like spread throughout the store. There's a big walk-in humidor, a fine selection of singles, and the back of the shop has a courtyard with a bar. If that's not sufficient, there's even a smoking lounge with one open wall to the right of the courtyard. It's easy to spend a comfortable hour here.
Cuchillas de Barbacoa (Robaina Farm)
San Luís, Pinar del Río
The most famous Cuban tobacco farm lies up a dirt road in San Luís. The farm is named Cuchillas de Barbacoa, but everyone knows it as the Robaina farm, the plantation of the late, great Alejandro Robaina.
Unlike, say, the Partagás Factory, this farm is not an official tour spot, although there have been talks about having a bus that would bring people here on occasion. Still, plenty of visitors find their way here, and the reception is pleasant. "The Robainas have always been known to be admirable hosts," says one well-connected Cuban official.
So you don't find yourself going down the wrong dirt road, make sure when you're driving up to the farm you see a big tobacco barn to the left of the driveway with large, bold red lettering on the roof, angled so that visitors can see. It should read: Finca El Pinar Alejandro Robaina.
Alejandro is, sadly, no longer with us, but his tradition lives on with his grandson, Hirochi Robaina, who welcomes visitors with the same pride and passion as his abuelo. If you visit during tobacco season (October to January), you can see leaf in the ground, but virtually anytime is fine to get a view of this land, where beautiful leaves are coaxed from the earth each year.
The Insider's Guide to Havana
You must be logged in to post a comment.
Log In If You're Already Registered At Cigar Aficionado Online