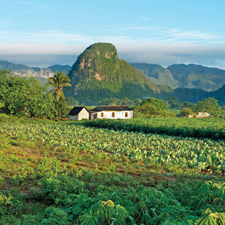 Not far west of Havana lies the Cuban province of Pinar del Río, home to some of the most fertile lands on earth and the world's greatest fields of premium cigar tobacco.
A Day Trip to Pinar del Río
Take a break from the city in the relative quiet of western Cuba
The car slows down as it leaves the main road for a rutted dirt path. Dust rises from the tires, the sound of rocks crunching beneath vulcanized rubber reaches your ears, and a mother hen clucks to get her freshly hatched brood of chicks away from what serves as a road out here in farm country Cuba.
At the roadside is a field that has been completely wrapped in white nylon, as if it were a present waiting for a young child on a cold Christmas morning. A weathered farmer, his narrow forearms ridged with muscle that looks like iron and a face etched with lines from the sun, lifts the flap of the tarp, an uneven cigar of his own making clenched in his jaws. He's walking into his tobacco field in the town of San Luís, out in the famed Vuelta Abajo in Pinar del Río. For him it's just another day, but his ragged boots are walking across the world's most revered tobacco land.
Cuba grows some of the world's finest cigar tobacco, but you can't see it in Havana. To get a look at Cuban tobacco farms, a visitor needs to go west, to the province known as Pinar del Río. The agricultural province makes up the westernmost 4,200 square miles of Cuba. A narrow and long piece of land that juts out into the Gulf of Mexico, it offers wide open spaces, beautiful views, the cigar factory that makes the Trinidad cigar brand, a very good cigar store and some of the world's best tobacco lands, including Cuchillas de Barbacoa, the famed Robaina tobacco farm.
Getting to Pinar del Río takes about two hours in a car from Havana, and while Cuba's highways are sparsely traveled, it's wise to let someone else do the driving for you. If you motor along at top speed, it's not uncommon to hit a bump in the middle of the road that sends your head into the ceiling, and locals often cross the highway in hopes that you'll slow down and offer a ride. Leave the driving to someone who is used to this type of chaos, fire up a cigar and relax—there's lots to see once you get out west.
Francisco Donatién Factory
Calle Antonio No. 157, Pinar del Río
Known for lanceros, the Francisco Donatién factory no longer makes Vegueros cigars, but the small fabrica is now home to Cuba's renowned Trinidad brand.
About a third of the people who live in the province of Pinar del Río live in the city by the same name, and in the middle of that city is the Francisco Donatién factory. The building is actually an antique prison that was transformed into a cigar factory in the 1960s. For decades the only cigars made here were for local consumption, but in the 1990s the fabrica began making a brand called Vegueros, which featured thin shapes and an atypical white and green cigar label.
You can still see the Vegueros image all over the Francisco Donatién factory, but the brand has been discontinued. Today 90 percent of the cigars made here are Trinidads, a brand that was relocated here from Havana's El Laguito.
(As with Vegueros, Trinidad is known for its lancero shape.) The factory, which also rolls some Romeo y Julietas, is one of the smallest in Cuba, with only 58 cigar rollers.
Francisco Donatién is open to tourists (the entrance fee is $10) and is quite ready for visitors—perhaps a bit too ready. Unlike other cigar factories, where you can get up close and personal to the workers, tourists here are kept separate from the rolling gallery by a wooden rail, so you have to observe from a distance. Other parts of the cigarmaking process take place behind glass.
There's a little retail area in the courtyard where you can buy a Cuban flag or a Che Guevara T-shirt, if you're so inclined, and the factory has a decent cigar store. It even had a few old Vegueros cigars in May. Stocks were very good, although a few of the cigars were slightly beat up in appearance. If you're shopping here, choose a Trinidad Fundadore, one of Cuba's greatest thin cigars, which is made right on the premises, and puff away, but we prefer to buy across the street.
You must be logged in to post a comment.
Log In If You're Already Registered At Cigar Aficionado Online