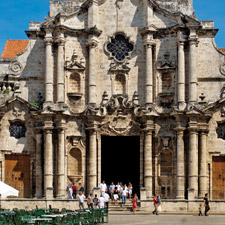 The Catedral de Havana is one of the oldest in the city.
A Walk Through Old Havana
An easy tour around a Spanish Colonial gem
(continued from page 1)
From there, you will see an almost endless parade of Cuba's famous old American automobiles, many of which are completely restored; there are companies that provide tours of the city in these old cars, but if you just want to catch a glimpse of them, sit still for a few minutes in the park and they will roll on by. I saw a nearly perfect rendition of a 1957 Chevrolet Bel Air with those big tail fins, among many, many others.
Is it time to start drinking yet? Depending on how much time you've spent in the museums, I'd say, yes. Just behind the Parque Central, on the corner of Obispo and Monserrate, is El Floridita. This is the Cuban home of the daiquiri cocktail, the favorite of Ernest Hemingway on his frequent visits. I like sitting at the bar to get a close-up view of the preparations, and since they go down so smoothly, I don't want to wait long for a refill.
From there, just to finish off the afternoon, head toward  Bodeguita del Medio on Empedrado, and a test of its famed mojito (another Hemingway-approved cocktail). Ask the bartender, Pedro, to describe the method and the ingredients, and he'll be happy to oblige. That should do it. You're now ready for a siesta back at the hotel.
Make dinner reservations at El Gijones, on Paseo del Prado for about 9 p.m. in the rooftop La Terraza  setting. That way, when you're done you'll be ready to hear the local bands starting up all over the old part of town. To remain true to the day's theme—Habana Vieja—you should head down toward the port and settle in wherever there is a band playing. Trust me, there will be a lot of options. I love the Café Paris. It's small, and you can even just hang out on the street corner outside the café at Obispo and San Ignacio to hear the music. All in all, not a bad day in Havana.
Defining Habana Vieja
One day isn't enough to see all that Havana has to offer, so to work within the limit of one day, you have to narrow the focus. But that's pretty easy: Old Havana, or Habana Vieja, constitutes a great target. What is Old Havana? The classic boundaries are the Avenida de los Misiones, Monserrate and Ejido, which loosely follow the old fortified walls of Havana, built starting in 1519.
In practical terms today, the western boundary is formed by the Paseo del Prado, which starts in front of the Capitolio and runs down to the Malecón. That constitutes about 1.75 square miles. This is a true guesstimate, but I would say about 40 to 50 percent of the buildings inside that zone have been or are being renovated.
The Insider's Guide to Havana
You must be logged in to post a comment.
Log In If You're Already Registered At Cigar Aficionado Online