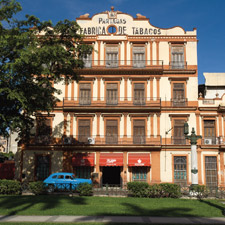 Partagás, the most famous cigar factory in Cuba, is a weathered but gorgeous landmark with distinctive architecture that was built in 1845.
Havana's Cigar Factories
Touring a Cuban cigar factory is a journey back in time
(continued from page 2)
Partagás is a grand facility. Stand outside for a moment and take a full look, taking in the four stories with its signature balconies, shuttered windows and the oversized red and white Real Fabrica de Tabacos Partagás sign. (Standing outside admittedly requires a bit of patience. You are all but certain to be approached by locals selling cigars, even by the front door. Resist the urge—what they sell is almost assuredly counterfeit.)
Walking inside, past the metal gates, take another moment to look up from the open center to watch as workers move about the floors above. Also take in the grand skylight far overhead. The walls are stone and wood, and the entire place teems with history.
Built in 1845, Partagás certainly shows its age, with crumbling steps, creaky floors and all manner of things needing fixing. One doesn't question the need for a 'This Old House' style makeover.
The rolling gallery has style, with large windows that open in the middle and a grand stage at the front of the room, where a lector sits, carefully reading the news aloud to the cigarmakers as they work. All wear bright red shirts sporting the Partagás logo as they roll cigars, sort tobacco, or weigh blends to be made into smokes. They make the Partagás brand, of course, along with Bolivar, La Gloria Cubana, Ramón Allones and Quai D'Orsay cigars, as the factory is the mother factory for those brands. A group of older workers, former cigar rollers, look over cigars for quality control, spot-checking the work of their younger comrades.
When this factory closes, its production will be moved to the El Rey del Mundo Factory, a gorgeous white building decorated with Ionic columns. That factory was closed in May, in the midst of its own renovation, preparing it for the workers from Partagás. The equally iconic Partagás Factory Casa del Habano store is scheduled to remain open throughout the renovation of the Partagás Factory. This is a wonderful cigar store that should not be missed.
La Corona Factory
(aka Miguel Fernández Roig)
Av. 20 de Mayo y Línea de Ferrocarril, Cerro
A worker at La Corona sorts tobacco leaves on a system known as a burro.
Just around the corner from the busiest baseball stadium in Cuba is the La Corona Factory. This building served as a cigarette factory until 2000, when it was converted into a cigar factory.
The factory lacks the style of Romeo or the charm of Partagás, and has quite the Eastern Bloc feel. The entrance is small and simple, and inside the paint scheme is heavy on mustard yellow and dark brown. The very center of the building, which all can see from inside, is dominated by a five-story industrial elevator, with an open shaft and steel I-beams. It's far from the most attractive cigar factory in the world.
Still, the factory makes some very good smokes. This is the mother factory for Cuaba, Hoyo de Monterrey, Punch, San Cristóbal de la Habana, Flor de Cano and Por Larrañaga. There are workers here who can make amazing cigars, such as the multifaceted Cuaba Salomon. On a recent visit, a slim man in a green tank top carefully crafted a Salomone while puffing on a panetela.
The crowded rolling gallery has an intriguing system of lights fashioned on curved poles at every roller station. There's a tasting room at La Corona with cubicles, each one designed for a cigar taster. They work early in the morning (to ensure a fresh palate) and rate cigars to ensure quality.
Comments
1 comment(s)
ROBERT BENNETT — HONOLULU , HI, USA, — July 31, 2012 2:51am ET
---
You must be logged in to post a comment.
Log In If You're Already Registered At Cigar Aficionado Online