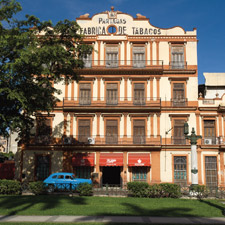 Partagás, the most famous cigar factory in Cuba, is a weathered but gorgeous landmark with distinctive architecture that was built in 1845.
Havana's Cigar Factories
Touring a Cuban cigar factory is a journey back in time
(continued from page 1)
Romeo y Julieta/H. Upmann Factory
Belascoaín 852 entre Peñalver y Desagüe, Centro Habana
For the first time in years you can go inside Havana's Romeo y Julieta Factory, which is the new (and temporary) home of the H. Upmann cigar brand.
This is a somewhat confusing situation. The original 1800s H. Upmann Factory was closed in the early 2000s when H. Upmann moved to what was touted as one of Cuba's most modern cigar factories. That new home didn't handle Havana's punishing summer climate nor its ocean air very well. After a mere 10 years, Cuban officials ordered it closed for renovations, and decided to move H. Upmann into Romeo y Julieta.
So Romeo y Julieta is now operating as H. Upmann. In February 2011, H. Upmann factory manager José Miguel Barzaga Maceo and his workers had moved into Romeo, and began making cigars. By May, the transformation was almost complete. The Romeo factory had been decorated with umpteen banners and posters featuring the H. Upmann brand, while items were still being moved around and painters worked on small touchups.
As well as the entire production of Cuba's H. Upmanns, the factory also rolls some Montecristos and Romeo y Julietas and several sizes of Cohiba. While the factory is also in charge of the diminutive Diplomaticos brand, none were
being rolled in May. The rest of Romeo y Julieta production (it's a large brand, with many sizes) is spread out among other Cuban cigar factories.
The factory is very clean, and very efficient. There's a beautiful old marble staircase to the left when you enter, and a huge black and gold banner reading H. Upmann Havana. The rolling gallery is one of Havana's largest, with huge windows along either side providing light for the workers. There are 204 torcedores working here. The gallery buzzes like a hive, and is quite colorful, as some of the cigar molds are painted bright blue or crisp yellow, along with the more standard plain wood or black.
The factory was rolling several new cigars in the spring, including the H. Upmann Half Corona and the H. Upmann Royal Robusto (a size that will be exclusive to Casa del Habano stores throughout the world). Each of these new sizes were introduced at the Habanos Festival in February 2011.
The factory is quite popular with tourists disembarking cruise ships. There's a good, but not great, cigar store around the corner due to be upgraded to a Casa del Habano. The renovation of H. Upmann is scheduled to last until around spring of 2012, but could be delayed.
Partagás Factory
(aka Francisco Pérez Germán)
Calle Industria No. 520, Centro Habana
The 166-year-old Partagás Factory, arguably Cuba's best known cigar factory and certainly the one most frequented by tourists, was expected to be closed by now for extensive renovations. As this issue went to press, cigars were still being rolled there, but only special tours were being allowed. If you visit Havana and find it still open, try to wrangle a visit.
Comments
1 comment(s)
ROBERT BENNETT — HONOLULU , HI, USA, — July 31, 2012 2:51am ET
---
You must be logged in to post a comment.
Log In If You're Already Registered At Cigar Aficionado Online