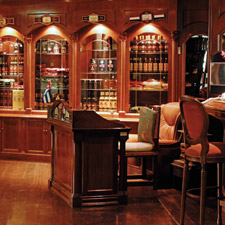 The Casa del Habano at the Meliá Habana Hotel has it all: great cigars, comfortable seating, a well-stocked bar and a friendly and knowledgable staff.
Havana Cigar Shops
The biggest city in Cuba has a superb collection of cigar stores that sell handmade, premium cigars
(continued from page 8)
Cigar Shop at La Corona Cigar Factory
Av. 20 de Mayo y Línea de Ferrocarril, Municipio Cerro
This is the most disappointing cigar shop in Havana. Located next door to the La Corona cigar factory, the shop is small and soulless, with a limited selection. This shop is not meant for connoisseurs, but for tourists to grab a quick box or five-pack of cigars and a bottle of rum.
Walking inside is a bit of a running of the gauntlet, as cigar hustlers freely solicit counterfeits to anyone going in or out. Should you walk in when a bus packed with tourists arrives, prepare for an even worse experience as the shop turns into a subway car in New York at rush hour. A shop to avoid.
The Insider's Guide to Havana
Comments
9 comment(s)
Simon Cathcart — February 24, 2012 12:00pm ET
---
Bruno Gallucci — Ottawa, Ontario, Canada, — February 25, 2012 5:52pm ET
---
Damian Bancroft — Georgetown, Cayman Islands, — February 29, 2012 2:04pm ET
---
Keith Tramer — Stoughton, Saskatchewan, Canada, — March 13, 2012 5:09pm ET
---
Roy Jeglum — April 18, 2012 12:56am ET
---
Andre Du toit — South Africa , — June 7, 2012 7:02am ET
---
Zdravko Brkic — Belgrade, Serbia, Serbia, — July 31, 2012 5:10pm ET
---
CHRISTOPHER BRIND'AMOUR — STE-CATHERINE, QC, CANADA, — August 21, 2012 4:28pm ET
---
James Poland Jr — Branchland , West Virginia, United States, — September 22, 2012 6:50pm ET
---
You must be logged in to post a comment.
Log In If You're Already Registered At Cigar Aficionado Online