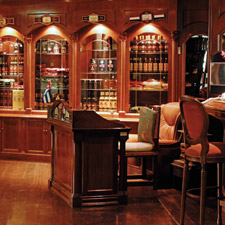 The Casa del Habano at the Meliá Habana Hotel has it all: great cigars, comfortable seating, a well-stocked bar and a friendly and knowledgable staff.
Havana Cigar Shops
The biggest city in Cuba has a superb collection of cigar stores that sell handmade, premium cigars
(continued from page 6)
La Casa del Habano, Hotel Palco
Calle 11 y 146, Cubanacan, Playa
If you're not staying at Cuba's Hotel Palco, you might find yourself there for some type of convention, for the hotel abuts the Palazio de Convenciones. The 14-year-old hotel has one of Cuba's more modest Casa del Habanos, a small shop conveniently located next door to the hotel's currency exchange center (something all tourists need in Cuba). Look up and you'll see an oversized guillotine cigar cutter hanging over the entrance.
Inside is a friendly staff, a cigar roller and a walk-in humidor that's nearly 30 feet wide, with a decent selection of cigars. (Although on a May visit the back end of the humidor served as storage for some shirts, rather than cigars.) The selection of singles is limited compared with most Casa del Habanos.
Every Casa has its own identity, and the Palco's also sells chocolates, which could come in handy if your cigar shopping takes longer than anticipated and you have a spouse to placate.
An elderly cigar roller who had spent 54 years in various Cuban factories was making beautiful cigars in the shop window, across from a selection of various cigar accessories. There's a smoking area in the middle of the store itself, but a backroom with a good-sized bar offers a more civilized and private place to puff. If you choose the right time to visit, you may bump into a group of women who come to the Palco La Casa every month—they come together to smoke Cuban cigars and drink Cuban rum.
The shop at the Hotel Palco is decent enough if you're staying at the hotel, or if you're attending a function at the convention center, but it's not a shop you should travel far just to visit.
Casa del Tabaco La Escogida, Hotel Comodoro
Av. 3 y Calle 84, Playa
While the name Comodoro sparks memories of old Havana, old and hotels don't go well together in Cuba, so the confidence level wasn't high when I walked toward the cigar shop at this well-known but quite weathered Cuban hotel, which has a white sign at an angle to an old ship's wheel, paired nicely with the Epcot Center-style concrete façade of the hotel.
One need not enter the hotel to go into the shop, with its entrance set off to the left of the front doors of the hotel, near a four-foot-tall statue of a smiling crocodile standing at a desk.
The shop has a more modest selection of cigars than those found at Casa del Habanos, and the variety of single cigars is particularly limited. The shop does have a very talented cigar roller, who works while wearing a shirt and tie, and effortlessly rolls cigars for the house, which are kept in their own four-foot-tall cabinet, made of dark wood with a pyramid on top.
Comments
9 comment(s)
Simon Cathcart — February 24, 2012 12:00pm ET
---
Bruno Gallucci — Ottawa, Ontario, Canada, — February 25, 2012 5:52pm ET
---
Damian Bancroft — Georgetown, Cayman Islands, — February 29, 2012 2:04pm ET
---
Keith Tramer — Stoughton, Saskatchewan, Canada, — March 13, 2012 5:09pm ET
---
Roy Jeglum — April 18, 2012 12:56am ET
---
Andre Du toit — South Africa , — June 7, 2012 7:02am ET
---
Zdravko Brkic — Belgrade, Serbia, Serbia, — July 31, 2012 5:10pm ET
---
CHRISTOPHER BRIND'AMOUR — STE-CATHERINE, QC, CANADA, — August 21, 2012 4:28pm ET
---
James Poland Jr — Branchland , West Virginia, United States, — September 22, 2012 6:50pm ET
---
You must be logged in to post a comment.
Log In If You're Already Registered At Cigar Aficionado Online