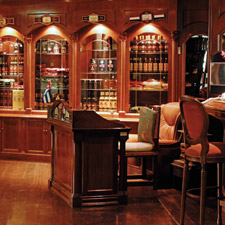 The Casa del Habano at the Meliá Habana Hotel has it all: great cigars, comfortable seating, a well-stocked bar and a friendly and knowledgable staff.
Havana Cigar Shops
The biggest city in Cuba has a superb collection of cigar stores that sell handmade, premium cigars
(continued from page 5)
The store has two floors, and aside from a cigar roller working upstairs, all the cigar action happens on the lower level, which is about twice the size of the upstairs floor. The downstairs is brightly lit, but grand and spacious, with several smoking areas. There's a nook just to the left of the very wide retail counter, with a couch and a table where you can puff, and a smoking room that can seat a dozen or so patrons in the back, past the very large walk-in humidor. That room also has a bar.
What we found most impressive with the Nacional's cigar shop was its selection. There was every size of Montecristo (even massive "As,") every Cohiba (save for the Behike line), plenty of Romeo y Julietas, all kinds of Partagás cigars, including some Culebras, and just about everything else you could want in Havana. This store also has superb stocks of singles, which are arrayed in a counter display and on glass-rimmed shelves behind the counter as you walk in.
While the vast majority of the boxed stock was from 2010, we found a three-year-old box of Hoyo de Monterrey Double Coronas in a cabinet of 50 right there on a shelf. While many Havana cigar stores had old stocks of certain items, it's rare to find something old from such an in-demand brand and size.
Oddly, all the cigars here, even those in boxes, are marked with the single-stick price rather than the box price. So don't think the box of 25 Monte 2s is 7.60 cuc—it's 190 cuc.
La Casa del Habano, Hotel Meliá Cohiba
Av. Padeo, entre 1 y 3, Vedado
You would expect to find a great cigar shop in a hotel with the word "Cohiba" in the name. Ten years ago, the cigar shop at the Meliá Cohiba wasn't terribly special, but today the shop is greatly improved. If you're staying at the Meliá Cohiba, it's a no-brainer to stop by its Casa del Habano for a visit, but even if you're staying elsewhere in Havana this is a lovely shop in which to spend some time.
The cigar store is located one flight up from the massive lobby at the hotel, through a pair of double doors that open onto a spacious room with a small bar and many, many tables. You might walk in and hear some live music, turning this area of the cigar store/lounge into a sort of club. A large, circular display case showcases ornate cigar paraphernalia—ashtrays, cutters, lighters and cases—and to your left is the humidor proper.
The walk-in humidor sits at an angle in the store, giving it a triangular shape. While far from Havana's largest, it has plenty of fine cigars. In December 2010, it was the only cigar shop in Havana that had Cohiba Behikes in stock. In May 2011, it was out of Behikes (as was virtually every other Cuban cigar shop) but had decent stocks of boxes of all of Cuba's major brands (Cohiba, Montecristo, Hoyo de Monterrey, Romeo y Julieta, etc.) but a very limited selection of singles. On this occasion there were Montecristos of all sorts available by the single stick, as well as deliciously oily (but somewhat overhumidified) Partagás Lusitanias. There was also a decent selection of cigars in three-packs.
A small table in the middle of the humidor showcases a few rarities, and allows for the staff to show off a box if you wish a closer inspection before you buy. If you opt to smoke what you buy here, you have plenty of space to enjoy it, for the smoking areas at the Meliá Cohiba Casa del Habano are grand indeed. There's a full bar, along with plenty of cocktail tables in a spacious room. There are also small rooms off the Casa itself for meetings or the like, and in the very back is a small computer room, if you wish to regain contact with the outside world by surfing the Internet.
Oddly enough, as the Meliá Cohiba's cigar shop has improved over time, its in-house cigar bar has fallen by the wayside. El Relicario, the cigar bar located on the same floor as the Casa del Habano here at the hotel, was once a posh, relaxing place to enjoy a fine smoke. On a recent visit, it was a tired old version of what it had been before. Pass on Relicario, but try out the Casa del Habano at the Meliá Cohiba.
Comments
9 comment(s)
Simon Cathcart — February 24, 2012 12:00pm ET
---
Bruno Gallucci — Ottawa, Ontario, Canada, — February 25, 2012 5:52pm ET
---
Damian Bancroft — Georgetown, Cayman Islands, — February 29, 2012 2:04pm ET
---
Keith Tramer — Stoughton, Saskatchewan, Canada, — March 13, 2012 5:09pm ET
---
Roy Jeglum — April 18, 2012 12:56am ET
---
Andre Du toit — South Africa , — June 7, 2012 7:02am ET
---
Zdravko Brkic — Belgrade, Serbia, Serbia, — July 31, 2012 5:10pm ET
---
CHRISTOPHER BRIND'AMOUR — STE-CATHERINE, QC, CANADA, — August 21, 2012 4:28pm ET
---
James Poland Jr — Branchland , West Virginia, United States, — September 22, 2012 6:50pm ET
---
You must be logged in to post a comment.
Log In If You're Already Registered At Cigar Aficionado Online