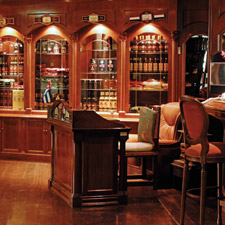 The Casa del Habano at the Meliá Habana Hotel has it all: great cigars, comfortable seating, a well-stocked bar and a friendly and knowledgable staff.
Havana Cigar Shops
The biggest city in Cuba has a superb collection of cigar stores that sell handmade, premium cigars
(continued from page 4)
The hotel is considerably quiet and small, belying the quality of its cigar shop. The shop is charming and has that slightly weathered, slightly chaotic look that makes it seem like it has been there for ages. It's quite inviting.  Walk through the hotel lobby, into the courtyard, then turn right and walk up the winding stairs past a series of black-and-white photographs of Groucho Marx and other cigar smoker luminaries to the door, which is covered with labels from cigar brands.
The main area of the shop has a good selection of cigars. Open boxes invite cigar lovers to select from the singles artfully arrayed in decorative cabinets made of dark, ornate wood. There is also a bar and smoking lounge with humidified lockers. Antonio Hevea, who has been working in the cigar business for more than five decades, runs the shop. He previously worked at the Partagás Factory Store, and helped open the Casa del Habano in the 6th Arrondissement on the Boulevard St. Germain in Paris.
La Casa del Habano, Hotel Habana Libre
Calle L entre 23 y 25, Vedado
The largest Casa del Habano in Cuba is also its newest, the store at the Habana Libre Hotel, which opened in February 2010. When you enter, your eye is immediately drawn to a fountain, complete with a few small turtles, about 15 feet from the door. The bubbling water makes for a tranquil scene inside.
Hotel Habana Libre boasts impressive stocks of Cuban cigars.
This shop stocks a vast inventory of cigars, and in May it was the only cigar shop in Cuba to still have Cohiba Behikes in stock, albeit only singles, and only BHK 52s and 56s. It also had a rarity sitting on a top shelf—a full box of Cohiba Selección Reserva cigars, a 2003 release containing 30 specially banded Cohibas, including the unreleased Medias Coronas size. It was priced around $400.
The selection by the box is simply stunning and is, perhaps, the best in Havana. The vast walk-in humidor was loaded with all manner of Cuban cigars: Cohiba, Cuaba, Montecristo, Romeo y Julieta, Trinidad, Hoyo de Monterrey, H. Upmann, Vegas Robaina—you name it. There were cabinets of 50 Hoyo de Monterrey Double Coronas and at least 20 Partagás Serie P No. 1 jars.
The Casa at the Habana Libre has several comfortable seating areas, but it lacks some of the old-world charm of other Casas (and the industrial green paint on the walls in the back smoking area doesn't help). There's a small bar serving coffee and Havana Club rum and a cigar roller who works just outside the shop. The large shop could soon be even larger, for there are plans to add seating areas outside on the perimeter of the shop, which would provide for an al fresco smoking experience.
While the shop may lack the warmth of some of the other stores in Cuba, it's worth a visit due to the breadth of the selection and the sheer size of the retail space.
La Casa del Habano, Hotel Nacional
Calle 21 y O, Vedado
The jaded cigar aficionado might quickly judge a visit to the Casa del Habano at the Nacional Hotel a mistake after popping inside and being greeted by racks of rum and other liquors. Don't be discouraged—the upstairs looks like a typical tourist trap, but the real magic lies beneath.
Comments
9 comment(s)
Simon Cathcart — February 24, 2012 12:00pm ET
---
Bruno Gallucci — Ottawa, Ontario, Canada, — February 25, 2012 5:52pm ET
---
Damian Bancroft — Georgetown, Cayman Islands, — February 29, 2012 2:04pm ET
---
Keith Tramer — Stoughton, Saskatchewan, Canada, — March 13, 2012 5:09pm ET
---
Roy Jeglum — April 18, 2012 12:56am ET
---
Andre Du toit — South Africa , — June 7, 2012 7:02am ET
---
Zdravko Brkic — Belgrade, Serbia, Serbia, — July 31, 2012 5:10pm ET
---
CHRISTOPHER BRIND'AMOUR — STE-CATHERINE, QC, CANADA, — August 21, 2012 4:28pm ET
---
James Poland Jr — Branchland , West Virginia, United States, — September 22, 2012 6:50pm ET
---
You must be logged in to post a comment.
Log In If You're Already Registered At Cigar Aficionado Online