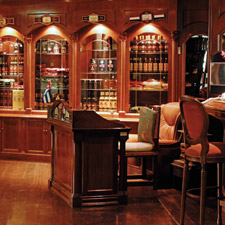 The Casa del Habano at the Meliá Habana Hotel has it all: great cigars, comfortable seating, a well-stocked bar and a friendly and knowledgable staff.
Havana Cigar Shops
The biggest city in Cuba has a superb collection of cigar stores that sell handmade, premium cigars
(continued from page 3)
The back room, with long strips of wood paneling, is among the best smoking rooms in Havana. The room has artwork on the walls, including a dramatic dark bust of Alejandro Robaina, a bar with an extensive selection of rum and Scotch, great Cuban coffee and extremely comfortable leather furniture. It's also spacious, designed so that you can claim your own little area and smoke in peace. On one recent visit, a very happy gentleman wearing a suit sat in a corner, smoking a robusto and reading his iPad, quite content with the world.
Shops worth visiting
La Casa del Habano, Partagás Cigar Factory
Calle Industria No. 520, Centro Habana
Undeniably touristy and often crowded, the Casa del Habano at the Partagás Cigar Factory nevertheless remains a must-visit cigar shop in Cuba. The dark wood paneling, the high energy, the vaulted ceilings, the photographs of famous visitors, the crowded masses puffing away on great cigars, all of it combines to create an experience not to be missed.
While the Partagás Cigar Factory itself is scheduled to be closed for a lengthy renovation (it was expected to have closed by spring 2011, but was still open as this issue went to press), Cuban officials say the shop will stay open during that time.
Abel Expósito Diaz, who runs the shop at the Partagás Cigar Factory, shows off a selection of Cohiba Siglo VI cigars.
The 17-year-old shop is the busiest in all of Cuba, and Habanos says it's the busiest Casa del Habano in the world. The shop gets its biggest crowds early in the morning when tourists pour in for factory tours, so visitors in the afternoon are often rewarded with more elbow room. It's also likely that the closing of the factory for renovations will make the crowds ease up, which wouldn't necessarily be a bad thing.
The retail operation here is run by one of Cuba's best-known and most talented cigar retailers, Abel Expósito Diaz, a gentleman who really knows his cigars and is always quite hospitable.
Not nearly as many cigars are on display here as in most Cuban La Casas, but Partagás does such a brisk business that the shop can often get what you want, even if you don't see it in the case on display. In May, we saw vast stocks of H. Upmann Noellas jars in the back room, for example, while none were displayed out front.
Running counter to the hustle-and-bustle of the front room is the VIP smoking lounge in the back. If you do a lot of business at Partagás, you should ask about going inside—it's  one of the best smoking rooms in Havana.
La Casa del Habano, Hotel Conde de Villanueva
Mercaderes 1202, esquina Lamparilla, La Habana Vieja
If you've never seen a peacock outside a cigar store, you've never been to the Casa del Habano at the Hotel Conde de Villanueva. This small, charming and soulful cigar store is up a narrow flight of stairs off the courtyard of the boutique hotel, which has only nine rooms and is situated somewhat off the beaten path in Old Havana. Said courtyard is the domain of a few proud peacocks. Pick the right (or wrong) time to visit and one might be roosting on the banister outside the shop door.
Comments
9 comment(s)
Simon Cathcart — February 24, 2012 12:00pm ET
---
Bruno Gallucci — Ottawa, Ontario, Canada, — February 25, 2012 5:52pm ET
---
Damian Bancroft — Georgetown, Cayman Islands, — February 29, 2012 2:04pm ET
---
Keith Tramer — Stoughton, Saskatchewan, Canada, — March 13, 2012 5:09pm ET
---
Roy Jeglum — April 18, 2012 12:56am ET
---
Andre Du toit — South Africa , — June 7, 2012 7:02am ET
---
Zdravko Brkic — Belgrade, Serbia, Serbia, — July 31, 2012 5:10pm ET
---
CHRISTOPHER BRIND'AMOUR — STE-CATHERINE, QC, CANADA, — August 21, 2012 4:28pm ET
---
James Poland Jr — Branchland , West Virginia, United States, — September 22, 2012 6:50pm ET
---
You must be logged in to post a comment.
Log In If You're Already Registered At Cigar Aficionado Online