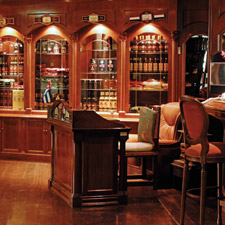 The Casa del Habano at the Meliá Habana Hotel has it all: great cigars, comfortable seating, a well-stocked bar and a friendly and knowledgable staff.
Havana Cigar Shops
The biggest city in Cuba has a superb collection of cigar stores that sell handmade, premium cigars
(continued from page 2)
The cigar selection here is superb. There's a well-chosen selection of cigars by the box, many of them in cabinets of 50, such as Punch Punch, Hoyo Doubles and Punch Doubles. There's also a large number of singles, with a broad selection of brands as well as sizes. We saw all types of Montecristos, lots of Cohibas, Partagás, Bolivars, Trinidads, Hoyo de Monterreys, even relatively obscure brands such as Sancho Panzas, Diplomaticos, Saint Luis Reys and La Gloria Cubanas.
Most Casas have aged cigars mixed in their stock, but the management at this store does some of the digging for you. They have a cabinet within the walk-in humidor with older cigars from 2000, 2003 and 2005. "This is one of the things we do all the time, call and ask for old cigars," says Maryla Delgado Fernández, showing off an old box of Partagás Charlottes as she puffs on a cañonazo-size smoke that was made in house.
The shop has a small but well-kept locker area, and a simple but pleasant enough back room if you wish to smoke with some privacy.
La Casa del Habano, Club Habana
Av. 5, entre 188 y 192, Miramar, Playa
Far from the hustle and bustle of downtown Havana lies one of the best cigar stores in all of Cuba, the Casa del Habano at Club Habana. Located on the site of the old Biltmore Yacht and Country Club, the shop is situated next to a stately 80-year-old building with a terrazzo roof that backs up to a beach.
You owe it to yourself to take a look at the water (at the very least) and order a cold Bucanero beer and watch the waves, or perhaps catch a view of the Russian flight attendants who like to tan here between flights. Club Habana also makes for a fine spot for an afternoon getaway—speak to your hotel concierge about making arrangements.
Getting inside Club Habana and the cigar shop means going through a security check with a gate (don't worry, they'll let you in). The shop, located at the far left of the complex, is gorgeous, spotless and luxurious. The walk-in humidor, set to the right when you enter, is large and bursting with smokes, and is decorated with stained-glass panels above the clear-glass panels of the wall of the humidor.
The shop always seems stocked with great cigars, for this is the domain of Enrique Mons, widely believed to be the greatest cigar retailer in Havana. Mons, who was in charge of quality control for Cuba's cigar industry in the 1970s and 1980s before turning to retail, knows cigars inside and out.
His humidor has artfully arranged stacks of Cubans, and at the center of the racks is a backlit area featuring special accessories. Be sure to dig around—something old always seems to be lurking if you're patient enough to find it.
Mons's shop has two cigar rolling tables, stationed outside of the walk-in humidor, facing one another from across the room. Cigar rollers here work slowly, carefully, and while house cigars can often lack a certain something, the ones made here are not to be ignored. Ask for a "Monsdale," Enrique Mons' take on the lonsdale size, which looks like a thicker-than-normal panetela, complete with a pigtail cap. The cigars are rich, robust and delicious. You'll want at least two.
Comments
9 comment(s)
Simon Cathcart — February 24, 2012 12:00pm ET
---
Bruno Gallucci — Ottawa, Ontario, Canada, — February 25, 2012 5:52pm ET
---
Damian Bancroft — Georgetown, Cayman Islands, — February 29, 2012 2:04pm ET
---
Keith Tramer — Stoughton, Saskatchewan, Canada, — March 13, 2012 5:09pm ET
---
Roy Jeglum — April 18, 2012 12:56am ET
---
Andre Du toit — South Africa , — June 7, 2012 7:02am ET
---
Zdravko Brkic — Belgrade, Serbia, Serbia, — July 31, 2012 5:10pm ET
---
CHRISTOPHER BRIND'AMOUR — STE-CATHERINE, QC, CANADA, — August 21, 2012 4:28pm ET
---
James Poland Jr — Branchland , West Virginia, United States, — September 22, 2012 6:50pm ET
---
You must be logged in to post a comment.
Log In If You're Already Registered At Cigar Aficionado Online