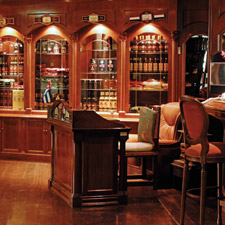 The Casa del Habano at the Meliá Habana Hotel has it all: great cigars, comfortable seating, a well-stocked bar and a friendly and knowledgable staff.
Havana Cigar Shops
The biggest city in Cuba has a superb collection of cigar stores that sell handmade, premium cigars
(continued from page 1)
The design of the walk-in humidor at Quinta Avenida is one part art, one part genius. Built to maximize storage space while minimizing its imprint on the store, the walking space around the humidor is only shoulder-width wide, and it snakes along the wall in a pattern of Ls, so walking through it requires twists and turns.
While the cigars in this shop receive serious attention from a stream of customers, I've always found something old here, especially when searching through secondary brands and smaller sizes. Some digging found a 1997 box of Juan López Patricias, unusual cigars that measure 4 5/8 inches by 40 ring, a cigar size known as a Franciscanos. They were selling for a mere 76 cuc.
The shop moves a lot of smokes. "Last week we sold more than 30,000 cigars," said Rios. It's rare to walk in and see deep stocks on the shelves, and quite common to see boxes in the back being opened up, ready to be moved into the humidor.
Quinta Avenida is ideal for collectors. While all La Casas on the island have lockers, this one has 96 of them, the most in Havana. In earlier years it cost hundreds to rent one, but today the lockers are free, although renting is up to management. Rios says they fumigate the lockers twice a year, to eliminate the potential for tobacco beetles, and the rules of the house prohibit you from storing cigars purchased elsewhere in your locker.
This is a shop where you must linger, or you risk missing out on one of the shop's classic touches. Once you've selected a cigar, order a Cuban coffee. The steaming little cup of Cubita is delivered on a saucer with a pair of actual tobacco leaves beneath the cup. There are several places to sit and relax while you puff, including the smoking parlor up front, with its tiled floor and high-backed chairs; a bar area off to the side, with wicker furniture, and even a cigar-friendly (of course) restaurant.
There are three private rooms (named Bolivar, Cohiba and San Cristóbal, for the cigar brands) if you wish to host a party.  A visit to Havana without stopping here would be a mistake.
La Casa del Habano, Hotel Meliá Habana
Av. 3, entre 76 y 80, Playa, Habana
The Meliá Habana's Casa del Habano is quickly turning into a favorite. The shop, which is 10 years old (it has only been a Casa del Habano for eight) is stunning and luxurious, with large glass-lined cabinets flanking the front wall of the room, comfortable and big leather sofas in the center near the curved bar that grabs the eye as you walk in. There's an "outdoor" seating area (which is actually within the hotel proper) a quiet smoking room off in the back, a huge walk-in humidor and walls lined with all varieties of cigars and accessories, plus an attentive, friendly and attractive staff that puffs away happily while helping you find what you want.
The bar stands out in Cuba for its surprising selection of Scotch, which includes Johnny Walker Swing, Red, Black, Green, Gold and Blue, Chivas 12 and 18, and Dimple 15, as well as a bottle of Hennessy Paradis Cognac. The bartender mixes cocktails as well, making this bar the most complete of those in Cuba's cigar stores.
The walk-in humidor has a nice touch—some of the shelves are cut with an angle, so a half-circle of wood extends out, adding to the charm. There's a small table in the center of the room—displaying a few special items—with a chair.
Comments
9 comment(s)
Simon Cathcart — February 24, 2012 12:00pm ET
---
Bruno Gallucci — Ottawa, Ontario, Canada, — February 25, 2012 5:52pm ET
---
Damian Bancroft — Georgetown, Cayman Islands, — February 29, 2012 2:04pm ET
---
Keith Tramer — Stoughton, Saskatchewan, Canada, — March 13, 2012 5:09pm ET
---
Roy Jeglum — April 18, 2012 12:56am ET
---
Andre Du toit — South Africa , — June 7, 2012 7:02am ET
---
Zdravko Brkic — Belgrade, Serbia, Serbia, — July 31, 2012 5:10pm ET
---
CHRISTOPHER BRIND'AMOUR — STE-CATHERINE, QC, CANADA, — August 21, 2012 4:28pm ET
---
James Poland Jr — Branchland , West Virginia, United States, — September 22, 2012 6:50pm ET
---
You must be logged in to post a comment.
Log In If You're Already Registered At Cigar Aficionado Online