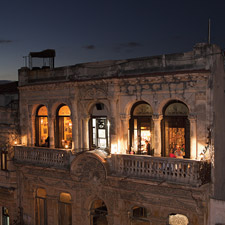 La Guarida, one of Cuba's best restaurants, occupies the top floor of a weathered building in Central Havana.
Havana Restaurants
From local dishes to modern international cuisine, the dining scene is varied and interesting
(continued from page 6)
Café de Paris
Obispo y San Ignacio
Habana Vieja
Tel: N/A
Definitely not a dining spot. But the music is often outstanding. I heard a great Cuban band, Son de Cuba, one night, and their sounds drifted through the streets in Old Havana.
La Torre
Calle 17, esquina M, Edificio FOSCA
Vedado
Tel: (537) 838-3088
A sunset spot. On the 33rd floor of the FOSCA apartment complex, this top-of-the-world bar on the 33rd floor provides magnificent views of the ocean, of Havana and the sunsets. Usually not recommended as a dining spot, but you might find it hard to leave.
The Insider's Guide to Havana
Comments
1 comment(s)
Kevin Shah — Shah Alam, Selangor, Malaysia, — February 21, 2012 11:48pm ET
---
You must be logged in to post a comment.
Log In If You're Already Registered At Cigar Aficionado Online