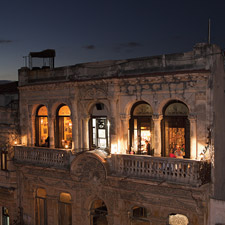 La Guarida, one of Cuba's best restaurants, occupies the top floor of a weathered building in Central Havana.
Havana Restaurants
From local dishes to modern international cuisine, the dining scene is varied and interesting
(continued from page 5)
A beautiful restaurant with a large and elegant bar. One of the early renovated spaces in Habana Vieja, it sits right across the street from the Marques de San Felipe hotel. The food is pretty standard, but just walking in to sit at the bar takes one back to an early twentieth century bar in New York or London. International cuisine.
Places to Try
La Campana
Calle 212, No. 2904, entre 29 y 31
La Lisa, Habana
Tel: (537) 271-1073
One of the hot new places among the expat crowd in Havana. We did not eat here, but it's getting rave reviews.
El Palenque
Calle 17 y 190
Siboney, Playa
Tel: (537) 271-8167
In the style of El Aljibe, but with a focus on roast or grilled pork. We didn't eat here because it suffered a fire in February, but the reports were that it was up and operating again. Very rustic and simple, but the roasted pork is said to be uniformly good.
Two other restaurants have come to our attention and may be worth visiting: San Cristóbal in Centro Habana and D12 in Vedado. Ask your concierge for directions.
For Cocktails & Music
Bodeguita del Medio
Calle Empedrado No. 207
Habana Vieja
Tel: (537) 867-1374
One of the world's great bars. They do have a full kitchen, but it's not a place anyone ever recommends for the food. This is a place of mojitos and cigars. In fact, one of the main bartenders, Pedro E. Tejeda Torres doesn't make daiquiris, only mojitos. There is almost always a small, three-piece acoustic band playing with a singer crooning the old Cuban standards. It's a great place to hang out for awhile, drinking away the afternoon. Papa Hemingway apparently knew the score. By this fall, there will be a cigar lounge up on the second floor with a small balcony.
El Floridita
Obispo, No. 557, esquina Monserrate
Habana Vieja
Tel: (537) 867-1300
Not a bad choice to eat, but we prefer other restaurants. This is a place to come for frozen daiquiris. They are delicious and the room is a wonderful example of art deco décor. Great long bar, and there's usually music.
Comments
1 comment(s)
Kevin Shah — Shah Alam, Selangor, Malaysia, — February 21, 2012 11:48pm ET
---
You must be logged in to post a comment.
Log In If You're Already Registered At Cigar Aficionado Online