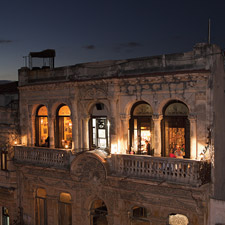 La Guarida, one of Cuba's best restaurants, occupies the top floor of a weathered building in Central Havana.
Havana Restaurants
From local dishes to modern international cuisine, the dining scene is varied and interesting
(continued from page 4)
This rooftop restaurant, which opened in early 2011, is within view of the Meliá Cohiba. The outdoor terrace has big comfortable couches where you can take a cocktail before dinner. I would recommend eating indoors if it is windy; the dining room is almost Moorish in its décor. The warm octopus salad with onions was excellent, as was the fresh lobster. The swordfish was a bit tough, but that may have just been due to the quality of the day's catch. Others have recommended the duck and the rabbit, so be a little adventuresome, which is what chef Nuria Higuera aims to be with her culinary offerings.
El Chelo, Club Habana
Av. 5, entre 188 y 192
Miramar, Playa
Tel: (537) 204-5700
This is a bit of a change from the normal restaurant in Havana. It's setting, out on the ocean in Miramar offers a great view. The buildings were once part of the Biltmore Yacht Club in the heyday before the revolution, and it retains much of its former charm. The restaurant has tables on a covered patio just steps from the pool, and you can walk out to the ocean on a sandy beach. The food is standard, but good, and it has some unusual bottles of wine on the list, including a Chilean Cabernet, Don Melchor (180 cuc), and several vintages of Vega Sicilia Unico (400 cuc). Seafood, especially the shrimp, is a good bet here.
Vistamar
Av. 1, entre 22 y 24
Miramar
Tel: (537) 203-8328
This paladar restaurant, in an old seaside home, is a reminder of the pre-revolutionary heyday. The second-floor dining room overlooks an infinity-edged swimming pool that looks out over the Caribbean Sea. This is a seafood palace, and has the best lobster I have eaten in Havana. Shrimp and grilled fish are also excellent here. A wonderful place to have a quiet lunch. Stick to the beer.
Other Recommendations
El Templete
Av. Carlos Manuel Céspedes
(Av. del Puerto)
La Habana Vieja
Tel: (537) 204-0624
This is one of the most popular, and considered among the best, government-run restaurants in Havana. It is known for its seafood. It's very close to the Hotel Santa Isabel and the Plaza San Francisco, down at the port of Havana. An appetizer of fried calamari was lightly breaded and delicious. The main courses of red snapper and dorado were both perfectly grilled.
La Imprenta
Calle Mercaderes 208, entre Amargura
y Lamparilla
La Habana Vieja
Tel: (537) 864-9581
An impressive two-story atrium of an old printing plant houses one of the newer government eating establishments in Habana Vieja. Delicious seafood in a unique setting. It's centrally located on Mercaderes, one of the most completely renovated areas of Habana Vieja.

Café del Oriente
Oficios No. 112, esquina Amargura
La Habana Vieja
Tel: (537) 860-6686
Comments
1 comment(s)
Kevin Shah — Shah Alam, Selangor, Malaysia, — February 21, 2012 11:48pm ET
---
You must be logged in to post a comment.
Log In If You're Already Registered At Cigar Aficionado Online