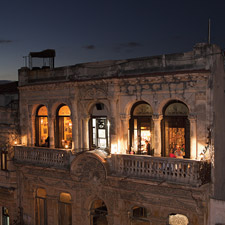 La Guarida, one of Cuba's best restaurants, occupies the top floor of a weathered building in Central Havana.
Havana Restaurants
From local dishes to modern international cuisine, the dining scene is varied and interesting
(continued from page 3)
El Aljibe
Av. 7 y Calle 24
Miramar
Tel: (537) 204-4233
Not a place for haute cuisine, El Aljibe is nevertheless one of Cigar Aficionado's favorites, a traditional first stop on our visits to Havana. This is a place to eat roast chicken. There are other entrées on the menu, but frankly, we've never tried them. The black beans, French fries and rice are all great. And, if you're in need of a good bottle of wine, this is one of the largest wine cellars in Havana, maintained at proper cellar temperature.
You can ask Inti Alvarez for a tour, but it's quite likely that when you ask for a bottle of wine, he'll say, "Follow me," and take you into the cellar to pick your bottle. The better wines are expensive, but you can drink good Spanish Albariños or Chilean Chardonnays for around 40 cuc. But the cost of dinner is minimal: 12 cuc, or about $15 for the chicken. A large thatched roof covers the open dining area, which is a big expanse of tile floors with wood posts. Plus, there's a cigar shop just outside the main entrance.
La Cocina de Lilliam
Calle 48 1311, entre 13 y 15
Miramar
Tel: (537) 209-6514
One of the prettiest, and older, paladars in Havana, this is a quaint restaurant in a residential area of Miramar that is run by Lilliam Dominguez. The tables are set up under a trellis covered with tropical plants, and the entire garden bursts with colorful tropical flowers. The food is quite simple, but a couple of dishes stand out. Without debate, it produces the best malanga fritas in Havana. Try them. On one visit we also had a corn casserole that was excellent. The shrimp is also as good as anywhere in Havana. There is often a guitarist. The main drawback is that it is a little out of the way; I'd recommend hiring your taxi by the hour and have it wait. Service can be slow.
La Fontana
Calle 46, esquina Av. 3
Miramar
Tel: (537) 202-8337
A celebrated and venerable paladar in Miramar that is very popular with the local expatriot crowd, this is a vibrant restaurant with several levels and an enclosed dining room, in addition to a covered terrace. There is often live music in the evenings. The food is above average for Havana. We had a delicious appetizer with three kinds of chorizo, or sausage. Grilled octopus, grilled chicken and a penne with seafood were all excellent. I ordered an arroz con pollo that came in a large earthenware bowl, and was full-flavored with peppers and onions. After dinner, head to the downstairs bar, a low-ceilinged affair with two of the most attractive bartenders in all of Havana.
Castropol
Malecón No. 107, entre Genios y Crespo
Centro Habana
Tel: (537) 861-4864
Just look for the bright yellow building on the Malecón, a few blocks east of the Prado. Book a table on the terrace, and take in the sweeping view from the Malecón from one end to the other. Another place to stick to the basic items. A garlic shrimp dish served in a casserole was delicious, with the seafood fresh and sweet. Both the lobster and the chicken were a little overcooked. But nothing will detract from the view.
Atelier
Calle 5ta, No. 511, entre 2 y Paseo
Vedado
Tel: (527) 836-2025
Comments
1 comment(s)
Kevin Shah — Shah Alam, Selangor, Malaysia, — February 21, 2012 11:48pm ET
---
You must be logged in to post a comment.
Log In If You're Already Registered At Cigar Aficionado Online