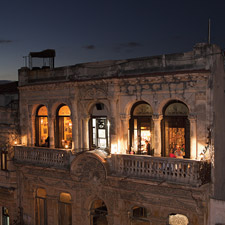 La Guarida, one of Cuba's best restaurants, occupies the top floor of a weathered building in Central Havana.
Havana Restaurants
From local dishes to modern international cuisine, the dining scene is varied and interesting
(continued from page 2)
The Camarones Hemingway (shrimp), served in an earthenware bowl, were a little sweet from the anise and garlic flavoring, but nevertheless delicate and delicious. There is a nice wine list with very attentive service. At night, meals are served in the courtyard and along the walkway. Convenient to the Habana Libre Hotel.
Doctor Café
Calle 28, No. 111, entre  Av. 1 y 3
Miramar
Tel: (537) 203-4718
Doctor Café is tucked away behind a house out in the Miramar section, and people simply point and say, "it's around back." One of the older and more successful paladars in Havana, this is not a big restaurant, although I would guess it will expand under the new rules for paladars, which now allow up to 50 seats. Juan Carlos Doce oversees the dining room, and is quick to offer any daily specials that may not be on the menu.
Try the delicious appetizer of shredded crab enchilado with tomato sauce and peppers. The menu for lunch that day included conch grilled with olive oil, onions and garlic, and it tasted like cèpe mushrooms from the sea. This is another great place to keep on your dining agenda in Havana.
Hurón Azul
Calzada de Infanta (Humbolt 153 y Calle P)
Vedado
Tel: (537) 879-1691
This paladar run by Jose "Pepe" Hernandez, which is right behind the Habana Libre Hotel, is a hidden gem, and in fact, had some of the best food we ate all week. Try the shrimp in malanga batter; malanga is a Cuban root vegetable that many restaurants serve as deep-fried croquettes. The deep-fried shrimp with the batter is a perfect combo. Octopus with onions and olives, shredded crab with polenta in a tomato sauce and a casserole of rabbit were all nearly perfect.
For the main courses, a beef filet with a chocolate and Roquefort sauce was brilliant, if a little heavy for my taste. Shrimp in a ginger sauce was delicious and the chicken in a honey lemon sauce was also very tasty. The wine list is decent, and if you have a small group (up to about eight people can fit comfortably), ask to dine in the private room. A real treat—and not on everyone's radar yet.
Good Choices
Café Laurent
Calle M, entre 19 y 21, Penthouse 257
Vedado
Tel: (537) 832-6890 
Started by former employees of the outstanding government restaurant El Templete, Café Laurent is one of the best seafood outposts in the city. It sits atop a small apartment building within walking distance of the Hotel Nacional, and the view from the terrace extends up and down the Malecón. The seafood focus is evident in such excellent dishes as the squid in ink sauce that was spot on.
However, this restaurant was still finding its way when we were there; expect it to get better. For now, the wine list is minimal, even lacking some of the normal go-to Spanish wines, and a couple of main courses were spotty on the night we were there. But the setting more than makes up for any hiccups now.
Comments
1 comment(s)
Kevin Shah — Shah Alam, Selangor, Malaysia, — February 21, 2012 11:48pm ET
---
You must be logged in to post a comment.
Log In If You're Already Registered At Cigar Aficionado Online