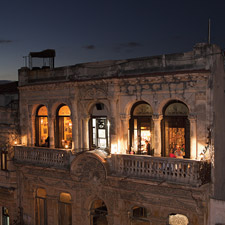 La Guarida, one of Cuba's best restaurants, occupies the top floor of a weathered building in Central Havana.
Havana Restaurants
From local dishes to modern international cuisine, the dining scene is varied and interesting
(continued from page 1)
Wine lists are pedestrian and predictable, with only a couple of exceptions: El Aljibe and Club Habana, which has a smaller list but with some interesting and unusual choices. Most lists have a pretty complete roster of Spanish producers: Marques de Riscal, Marques de Caceres and Torres, with an eclectic smattering of Argentine and Chilean labels. The prices for the standard wines are pretty uniform, ranging between $25 and $50. Once you get into higher end wines at El Aljibe, figure that the sky is pretty much the limit. As an example, a bottle of 1997 Sassicaia costs 1,400 cuc (about $1,600). I recommend to drink simple and drink young; storage is problematic (less so at El Aljibe, which takes good care of its wines), so unless you are certain of the cellar, any wine with age is probably not going to be in peak condition.
As for cigars? This is Havana. Your cigar is welcome at virtually every table.
We have chosen a group of restaurants as Editors' Choices; they were our favorites. There is also a group which we ate at that are simply good restaurants, and worth a visit for convenience and overall experience. And finally, we'll give you a list of popular restaurants that others have recommended, and hopefully, next time we'll get a chance to try them out too.
Editors' Choices
La Guarida
Concordia No. 418, entre Gervasio y Escobar
Centro Habana
Tel: (537) 866-9047
This has been—with a brief intermission during its closure in 2009—Havana's best restaurant for many years. It was one of the city's first paladars and continues to attract a very well-heeled international business and diplomatic crowd. The wine list is still being rebuilt, so expect little more than the standard labels for now. Fish and chicken are outstanding here, and the papaya lasagna is worth a detour. One table has a view out over Havana, but the other rooms are quaint and the tables close together. This is a must-stop.
La Terraza
Prado 309, esquina Virtudes
La Habana Vieja
Tel: (537) 862-3626
There are three restaurants in this building, which is owned by the Spanish society, the Sociedad Cultural Asturiana. The terrace on the top floor houses La Terraza, and the stoves are currently manned by chef Jorge Falco Ochoa, a master griller. Try the grilled octopus with pesto and grilled potatoes, or the warm octopus salad.
He also often serves up an entire leg of lamb off the grill. The covered rooftop terrace is spectacular, with great views. Just inside is an air conditioned room. This is a nice hybrid between a paladar and government restaurant because of the connection to the Sociedad. You can often see dance classes just outside the more casual restaurant on the ground level, and the second floor frequently has music from its stage overlooking the tables.
La Moraleja
Calle 25, No. 454, entre J y I
Vedado
Tel: (537) 832-0963
A long walkway of brick, stone and wood brings you to this wonderful and relatively new restaurant—it had been open only a few months when I lunched there. Started by Olgadia and Jorge Luis Añel, it is very close to the Habana Libre. I had the ceviche exotico, flavored with olive oil, lime and pepper.
Comments
1 comment(s)
Kevin Shah — Shah Alam, Selangor, Malaysia, — February 21, 2012 11:48pm ET
---
You must be logged in to post a comment.
Log In If You're Already Registered At Cigar Aficionado Online