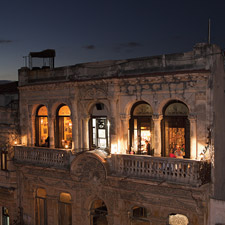 La Guarida, one of Cuba's best restaurants, occupies the top floor of a weathered building in Central Havana.
Havana Restaurants
From local dishes to modern international cuisine, the dining scene is varied and interesting
Update (June 2012): See "Havana Restaurant Update"
The climb up three flights of a dimly lit, crumbling marble staircase doesn't do anything to quiet the little voice inside you saying, "Why are you doing this? Where are you going?" Along the way, there is usually at least one young child begging for a few coins, and down the hallways at each landing of the decrepit old building, someone sticks their head out a door to an apartment. But the climb is worth it; at the top of the stairs waits La Guarida, the best restaurant in Havana. And, the passage through a rundown, sketchy apartment building to find a gem says everything you need to know about dining in Havana: even if it doesn't seem possible, everything is possible in Cuba.
Enrique Nuñez del Valle, the proprietor, smiles hopefully when asked how things are going now. "It's coming along. We're doing a good business." From the people waiting in the foyer, to the filled tables in the jumbled warren of rooms around the small kitchen, he's telling the truth. But he is still trying to get back to the level of service the restaurant had before it closed in 2009, partly due to crushing government rules. With those rules relaxed, he reopened late last year, and has been forging ahead ever since.
The restaurant scene in Havana is more exciting today than at any time in the last 20 years. Those new government rules—which allow a variety of private businesses including restaurants to now hire and fire employees and legally expand the number of seats—have thrown a new wrinkle into the quest to find and judge the dining scene in Havana. The new places are opening so rapidly that it's hard to keep track of them, but perhaps more importantly, in some cases, they are being opened by former workers from the government's top restaurants.
Those defections will affect quality and service in some old standards, so be aware of that phenomenon. And if those employees can't start their own restaurant, many veteran waiters and chefs are seeking employment at the private restaurants, or paladars, as they are known in Havana.
During a weeklong trip in early May, David Savona and I ate at as many restaurants as we could manage in six days and seven nights. We sampled a couple of old favorites, made sure to visit some of the most well-known and older paladars, and tried to hit as many of the new places that are getting rave reviews from the local expatriot crowd, which is always on the lookout for good places to eat. We also ate at some of the places reviewed in this story on our trip in December.
One of the most frustrating things about dining in Havana is the lack of any clearinghouse of information, no Zagat's guide to Havana restaurants. You have to rely on word-of-mouth, or on a hotel concierge. With the latter, there's no guarantee that he will have any firsthand information; his reports are likely gleaned from tourists who have visited the establishments. While we were there, I had at least three conversations where someone said, "Oh, you have to try this new restaurant, or that new place." Often, the next person hadn't even heard of the new place. Therefore, anyone using this guide should reconfirm our choices, and be on the lookout for new places. We ate at three restaurants that had not even been open on our visit in December.
Undoubtedly, there will be new restaurants opening in the course of 2011, and some of them may be quite good. So it pays to ask around.
On the rooftop terrace at La Terraza there is a grill for meats and vegetables, and diners can watch their food being perpared by chef Jorge Falco Ochoa.
The other good piece of advice is simple: lower your expectations. Even the top restaurants serve mostly uncomplicated, straightforward food. Grilled or steamed seafood and grilled chicken are pretty much standard fare on every menu. There is almost always fresh shrimp and octopus, and usually lobster, although the latter is often reserved for government restaurants; as always, it seems that where there's a will there's a way, so many paladars do have lobster. The chicken is usually very flavorful without being plump or fatty. Steaks are variable; we had one excellent steak at a paladar, although the rumor is that paladars don't often get beef, or certainly not the best cuts, for the same reason that limits lobster.
Of course, there is always the exception to the rule: the papaya lasagna at La Guarida is worthy of any top restaurant in any city in the world, and you can tell from the name that it is not your usual dish. Shrimp in malanga batter at Hurón Azul was top-notch. And a one-time menu item at Cocina de Lilliam, a cazuela of corn, was outstanding. Sometimes it is also worth asking if there is anything "off the menu." That can produce exotic offerings such as sea turtle or venison, so it is worth asking about. But the safest bet is to stick with the basics, and you won't go wrong very often.
Comments
1 comment(s)
Kevin Shah — Shah Alam, Selangor, Malaysia, — February 21, 2012 11:48pm ET
---
You must be logged in to post a comment.
Log In If You're Already Registered At Cigar Aficionado Online