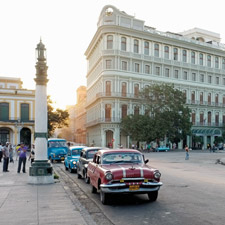 The Hotel Saratoga fronts the main square of Havana near the Capitol and the Partagás Factory.
The Hotels of Havana
The best places to stay in Cuba's capital city
(continued from page 5)
Hotel Barcélo
Av. 5, entre 76 y 80
Miramar, Playa
Tel: (537) 214-1470
Website: www.barcelo.com
E-mail: comercial@barcelohabana.co.cu
This is a new hotel managed by the Barcélo hotel group from Spain. It is a luxurious high-rise overlooking Quinta Avenida, one of the prettiest avenues in the Miramar district of Havana. There is no beach, but the pool is large. The rooms are mostly Eurochic, sleek furniture, bright colors and efficient layouts. It, however, could be a resort almost anywhere in the world. Not a bad choice if you're looking for a quieter, more out-of-the-way outpost in Havana.
Hotel Occidental Miramar
Av. 5, entre 72 y 76
Miramar, Playa
Tel: (537) 204-3584
This is the former Novotel. The Occidental hotel group of Spain took over operation of the property about five years ago. Next door to the new Barcélo in Miramar, this hotel also boasts an international standard of quality, with a beautiful pool area.
Hotel Habana Libre
Calle L entre 23 y 25, Vedado
Tel: (537) 834-6100
Website: www.meliacuba.com
E-mail: tryp.habana.libre@meliacuba.com
This is one of the older Havana high-rise hotels and had the misfortune of opening in the year before the Cuban Revolution. Fidel Castro even once had his offices there. There are 569 rooms, and while Sol Meliá has managed it since 1997, when the group did an extensive renovation, it is in the midst of another.
It will be several years before the work is complete. There is one of the newest and largest Casas del Habanos in the city here, and its does boast a central location to get to Habana Vieja and out to Miramar.
The Insider's Guide to Havana
You must be logged in to post a comment.
Log In If You're Already Registered At Cigar Aficionado Online