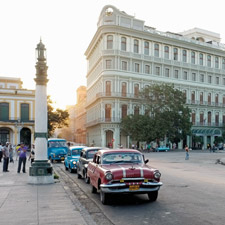 The Hotel Saratoga fronts the main square of Havana near the Capitol and the Partagás Factory.
The Hotels of Havana
The best places to stay in Cuba's capital city
Sitting on a bluff above a slight inward curve in Havana's seaside promenade, the Malecón, the twin cupola towers of the Hotel Nacional stand like two sentinels. Built by the New York City firm of McKim, Mead and White and opened to the public on December 30, 1930, this hotel has served as an iconic image of Havana as much as the Eiffel Tower in Paris, the Empire State Building in New York City or Big Ben in London.
The grand old dame of hotels in Cuba is more than a hotel. It is a must-see destination, a living museum of a past long gone. Nostalgic? Absolutely. The soaring, grand stucco-walled foyers, tile-floor hallways and stone arcades overlooking the gardens are wonderful places to wile away an afternoon or late evening, enjoying the parade of package-tour visitors, some staying there but most just sightseeing. The hotel remains a throwback to the revolution's early days, locked in its own time warp when it served as lodging for diplomats and foreign dignitaries, and as much a palace for that revolution, not
Havana's storied past.
Contrast the Nacional with the newly opened Palacio del Marqués de San Felipe y Santiago de Bejucal, down near the docks in Habana Vieja, or Old Havana. Enter its sleek reception area with deep mahogany woods, and bright tropical-hued walls and you might think you were in South Beach or Milan. The suites are post-modern chic, with large bathrooms and Jacuzzis, and the latest in sleek wood cabinets and metal and glass furniture.
The hotel sits on the Plaza San Francisco, an ancient colonial square with stone paving, flanked by an old sixteenth century church and some colonial buildings from the seventeenth and eighteenth centuries. The streets around the hotel in Old Havana are almost completely restored, the stucco exteriors smooth and painted, and the interiors modernized. The narrow pedestrian walkways wind between two- and three-story buildings that house restaurants, museums, government offices, even residences. The area bursts with charm and life, from early in the morning until late at night.
Those two establishments represent two ends of the hotel spectrum in Havana for foreign tourists. There are many hotels, managed by the government, which are very similar to the Nacional; clean, Spartan and reasonably efficient but not necessarily for every traveler. There also are a group of hotels built and managed by foreign hotel chains, principally the Sol Melia, Barcélo and Iberostar groups from Spain; they almost all fall in Cuba's five-star hotel category, although most foreigners would not give them that high an accolade based on standard international benchmarks. But they are among the best hotels in Cuba.
The atrium bar and restaurant inside the Hotel Marqués San Felipe is a quiet place to escape the noisy streets of Old Havana for a drink.
In recent years, the Cuban government has started to reach for that higher level of quality. The two principal Cuban government-agencies that operate hotels are Cubanacan and Habaguanex, the latter focused on hotels in Old Havana. Habaguanex is the primary driver of the newer luxury category hotels, mainly the Hotel Saratoga and the Marqués San Felipe.
Room prices don't vary that much. There are often three categories for the rate: low, high and very high season, corresponding to summertime, late fall and winter and the latter being applied for some holiday weeks.
For the standard Habaguanex hotels, the rates range from $90 to $125 for a single occupancy, $140 to $205 for double occupancy, $195 to $315 for suites with double occupancy. The Saratoga and the Marqués San Felipe are more expensive, with suites at the latter running up to $450 a night. Most room rates include breakfast, a standard buffet of fruits, eggs, breakfast meats and breads of various types, all accompanied by the hearty Cuban coffee; one tip, I usually order espresso or regular Cuban coffee instead of the weaker café Americano. Finally, we've included websites and phone numbers for all the hotels; rates change rapidly and there are often special deals posted on the websites, especially in the off-season months, so it's worth checking in on the rates being offered.
There are some quirky things about Havana hotels, and in a nutshell, it means that any experienced foreign traveler needs to lower his or her expectations. If you do, everything will be fine. For instance, there seems to be one type of mattress supplied to hotels in Cuba—it is firm, almost hard, but since I'm a fan of a solid mattress, it has always been fine for me. For those who like a softer mattress, don't expect it there.
Internet service is spotty. Nearly every hotel now sells Internet service cards to provide access to their wireless services in the lobby. If you have in-room service, sometimes wired, sometimes wireless, there is a separate username/password card that is provided, usually with an extra charge. For instance, the Hotel Nacional sells in-room access for 20 cuc a day. In general, be prepared for very slow Internet service, especially at peak load times in the morning and late afternoon. I once waited 20 minutes for my company web mail site to load at a cyber café outpost, the only terminal that worked at the Hotel Marqués San Felipe.
You must be logged in to post a comment.
Log In If You're Already Registered At Cigar Aficionado Online