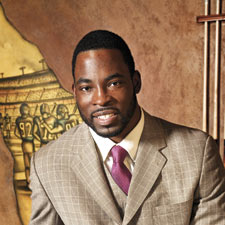 QB Killer
New York Giant Justin Tuck punishes his opponents on the field, but off the gridiron he's all heart
(continued from page 3)
Off the field, Tuck has more hobbies than a guy in retirement. He hunts and fishes. He plays golf and pocket billiards. And he collects vintage cars, his one great indulgence. His "pride and joys" are a 1970 white Chevelle with black stripes and a restored 1970 all-black Impala convertible. "I was around cars a lot as a kid," he says. "My Dad and brother would work on them all the time. I fell in love with the craftsmanship of great cars. And there's something about the American engine—the sound of the muffler—that really gets to me."
His most important outside project is R.U.S.H. for Literacy, a charity organization he and Lauran launched in 2008. The acronym, playing off his football prowess, stands for Read, Understand, Succeed, and Hope. Boosted by an annual celebrity pool event in Manhattan (General Cigar Co. has been a sponsor), it raises funds to donate books and other reading material to kids in his hometown of Kellyton and under-served areas in New York City, instilling the idea of reading at an early age.
"My wife and I are both passionate about education and kids. This combines the two," he says. "I had a problem accessing books growing up and we didn't have computers. Kids need those things. If you don't have that foundation, it makes life difficult. My wife and I credit our education for helping us get where we are today."
When he's looking to chill, there are his cigars, of course, stashed in an upstairs humidor and a downstairs wine cellar.
He smoked his first cigar in college, a Black & Mild while heading with friends to the Indiana Black Expo. He was never remotely attracted to cigarettes, never even smoked one. But cigars appealed to him. He thought they were cool, reminded him of the old gangster movies. They became a permanent part of his life in 2007, after a celebrity golf event. He was sitting at the clubhouse bar with Carl Banks, sipping on his favorite Scotch, Johnnie Walker Blue, when Banks hit him with the irresistible line: "You know, a good Scotch deserves a good cigar." (Banks was already a serious cigar man for years, puffing on Padrón 1964 Anniversary Series, Davidoffs and Ashton VSGs.) And just like that the two were lighting up Montecristos, the product of one of the event sponsors.
Tuck has been enjoying cigars ever since. He smokes them after big wins. And during the off-season, he'll puff away no less than three times a week, usually on the golf course or at Manhattan's Grand Havana Room.
He also has a special box of Macanudos waiting to be smoked, made-to-order "Triple 7s" celebrating the birth of his son Jayce, who was born on the seventh day (of February), weighing seven pounds, seven ounces.
"I'm waiting for another special day," he says. Like what? The birth of another child? Another Super Bowl victory?What?He looks away and pauses.
"I don't know yet," says Tuck, a man who revels in a life away from everything, the simplicity of everyday, everyman moments. "I'll know it when it comes."

Michael P. Geffner is a freelance writer living in New York City. He has been acknowledged for excellence seven times by the annual anthology Best American Sports Writing.
You must be logged in to post a comment.
Log In If You're Already Registered At Cigar Aficionado Online