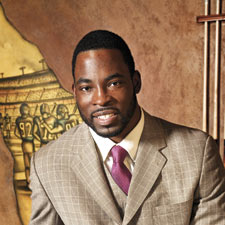 QB Killer
New York Giant Justin Tuck punishes his opponents on the field, but off the gridiron he's all heart
(continued from page 2)
He was drafted by the Giants in 2005, but was forced to begin his NFL career backing up two Pro Bowl defensive ends, Michael Strahan and Osi Umenyiora. His debut was laughable. "First game of the regular season, we're playing the Arizona Cardinals, and I'm up against Leonard Davis, who might be the biggest human being ever to put on pads (6-foot-6, 365 pounds)," he remembers. "It's the end of the game and we were up by a lot. And I try to get a sack with an inside move on him, one of my best moves in college. Well, he took his big paw and slapped me across my head, and I went from the right side of the defense to left. Osi and Strahan were laughing and I think Davis was too." But Tuck made up for it in Game 4, pitted against one of the game's best offensive linemen ever, the 6-foot-7, 325-pound tackle Orlando Pace of the St. Louis Rams. "I knocked Orlando into the backfield and made a tackle on All-Pro running back Steven Jackson. It was a big play, a loss of, like, five yards (for the Rams), and Strahan gave me a look back in the huddle, like, 'This kid is going to be alright.' "
It was just two seasons later that Tuck came up big in the biggest game of his life. In Super Bowl XLII against superstar quarterback Tom Brady and the undefeated New England Patriots, he ended up with six tackles and a game-high two sacks, including a momentum-changing takedown in the second quarter that forced a Brady fumble as well as killed a Patriots drive. "I don't remember much about that play," he says. "I know I made this move on [Pats' left guard] Logan Mankins by coming around the edge, but after that—it's weird—everything just slowed down. I don't even remember seeing the ball. But Brady looked huge."
Tuck had pressured Brady all game long during that climactic Super Bowl. "At one point, he said to me, 'You need to slow down.' I said right back, 'You need to hold the ball a little longer.' " By the time the game was over, the wild-card Giants had eked out the most unlikely Super Bowl victory in history, defeating the seemingly unbeatable Pats, 17-14. "The way we pulled together as a team from the last game of the season on—special, just special," says Tuck.
More Super Bowl–related drama came in the middle of the following season, when he misplaced his Super Bowl ring, which he'd been wearing like a wedding band on his right hand. "I realized one morning that it was gone. I freaked out. I scoured the house and couldn't find it anywhere. I remember sitting at the kitchen table with my head in my hands playing out what I did the day before in my mind, squeezing hard for some kind of answer. I didn't find it until late that night. It ended up being in a pair of dress pants."
He immediately handed the ring to his wife and said, "This is your property now. I'll ask you for it when I want to wear it." Lauran hides it in a secret spot. "At first, I never took the ring off," Tuck confesses. "I even slept with it on. Now I only wear it for special occasions. I mean, it took too much to win one of these to take a chance of losing it."
But since winning the Super Bowl, Tuck says, his Giants have "had trouble finding that killer mentality." That disturbs him a ton, so much so that last November against the Jacksonville Jaguars, with his teammates playing as if daydreaming about Caribbean vacations, he finally did something he's never done before in professional football, swung completely against type: He snapped. It began late in the second quarter with him unstrapping his helmet and flinging it to the sidelines. It continued into the locker room with him erupting into a bellowing, spittle-flying, profanity-loaded tirade that doubled as a halftime speech.
One of his teammates would later say that Tuck went "medieval," conjuring the image of a wild-eyed Pulp Fiction Samuel L. Jackson, angrily citing Biblical verse before spraying his victim with fatal gunshots. "It wasn't one of my Christian moments," he concedes with snort. "It was little bit of shock and awe.
"Just before we went back out on the field, I stopped [the whole defensive unit] cold. I felt we weren't ready yet, had no sense of urgency. And I lit into everybody, including myself. That's not my nature—I'm a lead-by-example type­—but I felt I had to say something."
The sanitized version of how he remembers the tirade ("I won't repeat the [profane] words," he says without equivocation) went something like this: "This is our house, not theirs! How can you let them raid our house? How can you let them put their dirty feet up on our couches, wipe them on our rug. How can you let them take our remote controls away? They've taken over our house! You call yourself a man! You call yourself a New York Giant…!" And the rant went on and on like that.
Tuck coughs up an embarrassing chuckle reliving those words. "Yeah, I was all over the place. Lucky, it wasn't recorded. It would've definitely sounded like I was crazy. But it worked." The Giants went from being down 17-6 at halftime to winning 24-20. "And from that point on," he says, "my teammates, I think, saw me in a different way." It's a coming-of-age story, as Tuck, if only for a rarer-then-rare moment of lunacy, had at last broken from his muted comfort zone to become a vocal leader, something Michael Strahan, following his retirement after the 2007 season, had repeatedly criticized him for not doing, accusing Tuck of being reluctant to "step on some toes in order to inspire and motivate guys." Says Tuck, "(Strahan) is a smart guy and he knows how to push people's buttons. He was trying to motivate me. We've talked about it since and he's told me he feels he left the team in good hands."
You must be logged in to post a comment.
Log In If You're Already Registered At Cigar Aficionado Online