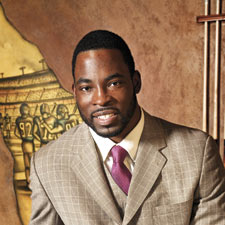 QB Killer
New York Giant Justin Tuck punishes his opponents on the field, but off the gridiron he's all heart
(continued from page 1)
Justin's mom Elaine worked for Russell as well, for 30 years, a lot of those days spent in the clothing mill on graveyard shifts.
There wasn't much for him to do in Kellyton besides play sports, and on some weekends and summer days Justin—a kid who made "little noise," his Dad will tell you—would start playing ball at ten in the morning and not finish until eight at night. "A lot of people thought that's why I had a darker complexion than my sisters," he says, "because I was always outside getting cooked by the sun." His favorite sport, surprisingly, was basketball, not football. It wasn't until the ninth grade that he took up football seriously, first playing quarterback, then tight end and linebacker, then finally defensive end in his junior year of high school.
When he wasn't on some ball field or court, he was at the Elam II Missionary Baptist Church. "It seemed like I went to church Sunday through Saturday," he says with a chuckle. All the Tuck men were either deacons (including his father and only brother Spencer) or preachers, while his mom was the church's secretary and his sisters either sang in the choir, played the church piano or taught Sunday school. Justin went from cutting the church's lawn to becoming its teenage Sunday school teacher.
His parents preached the basic principles of hard work and the need for a good education, humility and generosity, love of God and family, that one's life isn't measured by material things but by strength of character. "But my Dad would say that it's what you are behind closed doors that matters, not what you do and say in public. He'd say, 'If you're not living it when no one's looking, then it's not true.' That has always stayed with me."
When Tuck signed a five-year, $30 million dollar extension with the Giants in January 2008, he had a surprise for his Dad.
"Hey, Dad," he said. "I'm going to buy you a new house."
Jimmy Lee had a bigger surprise to give his son. "No, you're not."
"No, no, Dad, I'm going to buy it for you."
"Well, if you buy it," his Dad warned, "I'll burn it down."
His father explained that the best gift he could give him was to live his life fully, show respect for people and represent Kellyton well. That's all.
"You hear all the stories of guys making it big, coming into money and family members hanging off them," Tuck says. "Well, that's not my family. They don't want anything. 'That's your hard work, your success,' they say."
He was a relatively unknown football prospect coming out of high school, but by the time he finished his college days playing for The Fighting Irish of Notre Dame he made his bones as a premier college pass rusher. On campus, he was known as The Freak, a guy who possessed a 34.5- inch vertical leap, could run the 40-yard dash in 4.56 seconds, bench press 380 pounds, squat 560 and power clean 336 combined with the quickness and dazzling footwork of a point guard. It all combined to make him a uniquely lethal defensive end.
You must be logged in to post a comment.
Log In If You're Already Registered At Cigar Aficionado Online