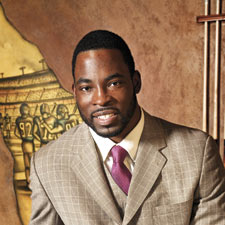 QB Killer
New York Giant Justin Tuck punishes his opponents on the field, but off the gridiron he's all heart
Justin Tuck has pulled off a minor miracle: Out of his maddening, big-city sports existence, he has still managed to replicate the remote, tiny-town vibe of his youth, living down a quiet side street of a quiet side street before the road abruptly hits a dead end in Fort Lee, New Jersey. "People don't even know anything is here," Tuck says. It's his pocket of serenity, of much- sought-after normalcy, overlooking the Hudson River, where on a clear day from his backyard, with the leaves off the trees, he has a simply gorgeous view of the George Washington Bridge and Manhattan's Upper West Side.
It's a Saturday afternoon in mid March. Tuck, 28, the New York Giants' Pro Bowl defensive end and one of the National Football League's most dangerous pass rushers—whose takedown of pretty boy Tom Brady helped produce one of the greatest upsets in Super Bowl history—is nestled into his comfort zone, a decidedly ordinary moment. Dressed in jeans and a mango-colored designer T, he's sitting at the kitchen table chomping on some Papa John's pizza, first a slice slathered with extra mozzarella cheese, then one topped with endless slices of pepperoni. He washes it all down with a plastic bottle of purple vitamin water.
Scurrying around him the whole time is his ever-smiling 13-month-old son Jayce, playing with toys strewn on the floor everywhere, spilling over from the kitchen into the living room, including a miniature multicolored football. "Hey, Jayce," he says, getting his son's attention. Tuck, suddenly breaking from his usual tight lips into a smile as big as his son's, rises from the table and gently kicks the ball away, watching Jayce, with choppy, stumbling baby steps, chase after it, followed close behind by Justin's wife Lauran, chasing after their son.
The result is a beautiful and amazing sight: six feet, four inches of height and 274 pounds of pure macho muscle mass melting instantly into beaming fatherly mush, one of those private snapshots where the man who makes a living knocking people senseless feels safe enough to reveal his soft side. "Football is what I do, not who I am," Tuck explains, looking warmly over at his wife and only child. "Just because I go out on the field trying to kill quarterbacks doesn't mean I don't want to see my wife and son run into my arms after the game. I'm a completely different person off the field than on."

He pauses, taking a long, slow sip of his odd-colored water. "I'm a quiet, laid-back guy. I don't like being in front of the cameras, don't need the limelight, don't like seeing people who've had a lot of success pat themselves on the back. I'm just trying to stay humble and not let the people in my life down."
Tuck's friend Carl Banks, a legendary Giants linebacker who has two Super Bowl rings of his own, has a unique perspective on Tuck: "Justin is one of the most genuine, unassuming guys you'll ever meet. For a guy of his stature to be so unaffected is rare. He's, as my mom would say, someone who knows his manners." Banks, who terrorized quarterbacks in the 1980s and early 1990s, is also responsible for introducing Tuck to the singular bliss of pairing a fine cigar with a good Scotch some five years ago.
Tuck indeed comes across as genial and down-to-earth, but at times painfully stolid. His face—which includes seemingly unblinking eyes—can appear as if shot with Novocain; his words are spare, matter-of-fact, and clearly measured; and his voice rarely strays beyond a low, flat, unexcited monotone. When forced to speak before an audience, he's invariably asked to move closer to the microphone. And when he lets loose something hinting of an emotion, he appears to become so self-conscious that the blurted response speedily retreats as if yanked by a fishing line.
He is such an odd fit in a city that loves its out-of-control, loud, freakishly over-the-top characters. Yet, with a degree of pride and certainty, if not defiance, he says, "I'm a chameleon. Whatever forest you want me to live in, I can live."
Tuck was born and raised in a forest down South you never heard of, with a population so miniscule it hardly justifies a spot on the map, yet where the notion of "family togetherness" provokes an Amen! as quickly as any line in any sermon—the rolling hills of Kellyton, Alabama, in Coosa County, 65 miles southeast of Birmingham. "I'm not even sure it's on the map," he jokes. "There are no traffic lights. Only two caution lights. One gas station. And the nearest McDonald's is 15 minutes away. But…it's home."
There are a piddling 200 or so people in Kellyton, most of them members of the Tuck clan, piled into a solid row of 11 houses. The Tucks actually outnumber the non-Tucks there. "A lot of people in the area call it 'Tuckville,' " he says. "Family's everything to me. I was around my family pretty much 24/7." It started with his great-great granddaddy Sam, a sharecropper who got a piece of land there, built on it and never left. His cousin, Adalius Thomas, a former Patriots linebacker whom he faced in Super Bowl XLII, grew up five minutes away.
One of seven children (five girls and two boys), Tuck grew up in a three-bedroom brick house hand-built in 1973 on a scratchy lot by his dad Jimmy Lee, aided by friends and family lured by a sweet talk and free meals. Jimmy Lee spent nearly 24 years working as an engineer in the warehouse of a local homebuilder, then for the Russell Athletic Co.
You must be logged in to post a comment.
Log In If You're Already Registered At Cigar Aficionado Online