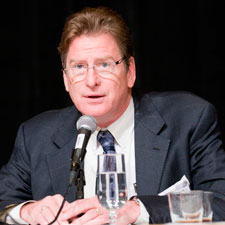 Photos by Sjodin Photography
Senior features editor Jack Bettridge led the spirits seminar portion of the Big Smoke.
2011 Big Smoke Sunday Seminars: The Cognac Connection
(continued from page 2)
The Courvoisier 21 was the last of the four Cognacs sampled that afternoon.
"It's rare to see an age statement on a Cognac like we see on the Courvoisier 21 because the process of moving Cognac from one barrel to the next makes it difficult to establish an exact age," Bettridge said. "But it leans heavy on the Fin Bois region, which tends to be more floral tasting from the clay composition of the soil."
The Courvoisier, however, brought out a sweetness from the cigar in an unexpected way.
Some attendees lit up the second cigar, the Alec Bradley Tempus, which uses Nicaraguan and Honduran tobacco with an Indonesian binder, though many wished to finish the Black Market.
In the case of the Tempus blend, Bettridge observed that "the cigar gives more to the Cognac overall than vice versa, but it's difficult to pick a favorite because there are no bad pairings here."
Bettridge shares a laugh with Rubin during the seminar.
Though Rubin found the Courvoisier to be the weakest pairing for the Tempus on account of the cigar's earthiness clashing with the sweet spirit. Bettridge preferred the Remy, Rubin the Ferrand.
But the people's choice for both cigars, by show of hands (and hollering) was the Courvoisier.
After some Q&A, the panel raffled off a few extra bottles by quizzing the audience and seeing just how much of the dissertation they retained.
The seminar probably went over its scheduled time, but it's understandable. Even the editors like to prolong a morning and afternoon of fine spirits and cigars, the culmination of a Big Smoke weekend that goes by all too quickly. And this is how the show ends. Not with a bang or a whimper, but with a sip and a puff.
Big Smoke Evenings
2011 Big Smoke Evenings, Las Vegas
Comments
1 comment(s)
Jacki H — November 4, 2011 6:59am ET
---
You must be logged in to post a comment.
Log In If You're Already Registered At Cigar Aficionado Online