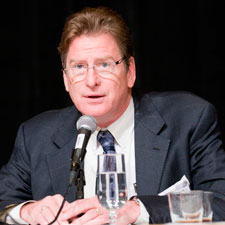 Photos by Sjodin Photography
Senior features editor Jack Bettridge led the spirits seminar portion of the Big Smoke.
2011 Big Smoke Sunday Seminars: The Cognac Connection
(continued from page 1)
Bettridge smoked the cigars and in between puffs added that "Even when the big houses—Hennessy, Courvoisier, Remy Martin and Martel—make Cognac, on a certain level it is a small-batch operation. They go to the farmers who grow, ferment and in many cases distill the grapes. Harvest is usually in October and March 31 is legally the last day you can distill."
He contemplated the cigar a bit longer before stating "I think the pairing of the Hennessy and the Black Market is excellent. The basic sweetness of the Hennessy is bringing out the chocolate flavors of the tobacco, but at the same time, the smoke is underscoring the Cognac's basic sweetness."
Rubin agreed, also finding the citrus notes of the cigar to work in concert with the Hennessy.
The panel moved on to the Remy Martin XO which, like the Hennessy, is also a blend.
Remy is distinct among the big houses in that it only makes Cognac sourcing from the Champagne regions. "Combine Petit Champagne with Grand Champagne and you get Fine Champagne," said Bettridge. "Champagne grapes tend to make nuttier Cognacs than other regions, and ages extremely well, but at a young age, it doesn't drink particularly well, so Remy doesn't bottle anything less than four years old."
The audience received four Cognacs, each representing a different growing region, or terroir.
Where aging undoubtedly improves Grand Champagne, Rubin felt that it is not always necessary to age cigars.
"I don't necessarily believe that every cigar gets better with age. A lot has to do with the cigar itself, and a lot has to do with how it smokes out of the box. After two years, a cigar can change and you may not like it the way you did when you first smoked it out of the box. You can blend what you think is the greatest cigar in the world and 30 days later, you have absolutely nothing"
Like Alec Bradley, Pierre Ferrand is a smaller producer, so it is able to make all its Cognac strictly from the Grand Champagne region, whose chalky soil greatly influences the flavor of the spirit. The seminar moved on to the Pierre Ferrand De'Anges, which is 30 to 35 years old.
"It's less floral and sweet than other Cognacs and heavier on the leather and nuts," said Bettridge. Although a pure expression of Grand Champagne, both Bettridge and Rubin found that it coated the palate in such a way that it overpowered the cigar.
"Black Market is having a hard time breaking through," Rubin observed.
Comments
1 comment(s)
Jacki H — November 4, 2011 6:59am ET
---
You must be logged in to post a comment.
Log In If You're Already Registered At Cigar Aficionado Online