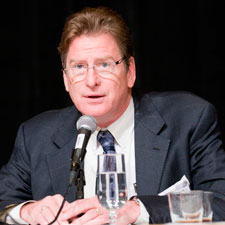 Photos by Sjodin Photography
Senior features editor Jack Bettridge led the spirits seminar portion of the Big Smoke.
2011 Big Smoke Sunday Seminars: The Cognac Connection
The Big Smoke Las Vegas ended with the traditional partnering of cigars with spirits, this year with the time-honored pairing of smoke with Cognac. "This is the end of the Big Smoke," said Cigar Aficionado executive editor Gordon Mott, who introduced senior features editor Jack Bettridge and Alec Bradley Cigar Co. president Alan Rubin. Together, the two of them set out to find the perfect synergy between four Cognacs and two cigars.
"I learned about Cognac the hard way," said Bettridge, "through books. I thought I knew about the spirit until I finally went this year to visit the region."
The four Cognacs at the seminar represented different growing regions (or terroir) in France and four different blending styles. Every attendee at the seminar received four glasses, each with a pour of Hennessy XO, Pierre Ferrand Selection De'Anges, Remy Martin XO and Courvoisier 21. As a cigar pairing, they were handed an Alec Bradley Black Market Toro and an Alec Bradley Tempus Robusto, both of which represent myriad cigar growing regions.
"We launched the Black Market September of this year," said Rubin. "It's a little bit of a departure from some of our other brands. This is the first time we're using Panamanian tobacco in our blend and a true Sumatra binder. It took us about three and a half years playing with the Panama tobacco to come up with something we really liked."
The audience lit up their cigars and took a sip of the Henessy XO.
"Usually we like to arrange the Cognacs from lightest body to fullest, but this was hard to do because they are all full bodied, elegant Cognacs," said Bettridge as he began the seminar. "The first one is Hennessy XO. The Hennessy brand is 40 percent of the market. They make some lower market stuff, but when you get to XO and above, you're looking at some really good juice. They have the greatest storehouse of eau de vie—what they make Cognac out of."
Alan Rubin, president of Alec Bradley Cigar Co., joined Bettridge on stage.
Bettridge explained how Cognac is a brandy, which is distilled wine, and that it is only officially designated as Cognac if it's produced in the Cognac region of France.
"In order to use this appellation, the grapes have to be grown there, fermented there, distilled there and the Cognac must be aged there," said Bettridge. "The region is divided into six subdivisions, each with different soil characteristics. The prominent subregions are Grand Champagne, Petit Champagne, Fins Bois and Borderies."
"Hennessy blends from all of these regions," said Bettridge. "They're working with a very wide flavor palette."
Rubin played off this notion by discussing the blending of his cigar from region to region: "When it comes to blending tobacco, each factory has its own style. We've used tobacco from 17 different countries and are not afraid to try something new as a company. Being a small operation, we don't have to produce millions of cigars in order for us to move forward. For us, it's about balance."
Comments
1 comment(s)
Jacki H — November 4, 2011 6:59am ET
---
You must be logged in to post a comment.
Log In If You're Already Registered At Cigar Aficionado Online