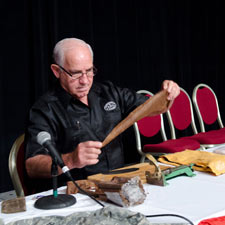 Photos by Sjodin Photography
Leo "The Pope" Peraza's steady hands acted as a guide for participating audience members.
2011 Big Smoke Sunday Seminars: Roll Your Own
(continued from page 2)
But after the laughter subsided, the judges began to seriously evaluate all the submitted cigars and held up a near perfect smoke rolled by John "Bones" Malone. He was presented with two La Gloria Serie R Limitada Humidors (filled with cigars) made of Ebony Macassar wood.
As Giannini handed Malone his prize boxes of cigars he asked "So how did you roll such a great cigar?" Malone answered, "Like you said, I just watched The Pope. I'm also a surgeon, so I'm good with sharp stuff."
The audience applauded and the event was over. Some of the participants rolled cigars very competently, others, despite their noblest of efforts, just couldn't get past the first step. Either way, they were now focused on the series of glasses passed out at every setting. In a few moments, those glasses would be full of Cognac, the subject of the final seminar—a toast, perhaps, to those who rolled a great cigar, and a salve for those who couldn't.
Big Smoke Evenings
2011 Big Smoke Evenings, Las Vegas
Big Smoke Saturday Seminars
Top Three Legal Cigars of 2010 Tasting
An Insider's View of Cuba Today
Today's Hybrids: The Tobacco Used in Your Cigars
Size Matters
Lunch with Rocky Patel Premium Cigar Co.
Big Smoke Sunday Seminars
Breakfast with Charlie Palmer
Roll Your Own, Seminar No. 14
The Cognac Connection
Big Smoke Weekend Photo Gallery
Slideshow: 2011 Big Smoke Las Vegas Weekend
You must be logged in to post a comment.
Log In If You're Already Registered At Cigar Aficionado Online