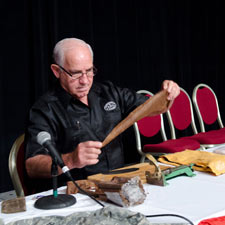 Photos by Sjodin Photography
Leo "The Pope" Peraza's steady hands acted as a guide for participating audience members.
2011 Big Smoke Sunday Seminars: Roll Your Own
(continued from page 1)
"These people are really good cigar smokers," said Guillen, "But rollers? Terrible. There's no one here I can hire."
The playful, good-natured ribbing of poorly rolled cigars has always been a signature of the Roll Your Own seminar. As Leo showed how to cut the wrapper into neat sickle-shaped pieces, some attendees were following his instructions attentively, while others were absolutely ruining their piece of wrapper leaf. Then Leo showed exactly how to apply the wrapper and how to finish it off with a neat, pigtail cap.
"Remember," added Giannini "Roll with the veins up. If your cigars look like you do when you're wearing your pants inside out, you did it wrong. Finesse the wrapper, lightly stretch it so it is wrinkle-free when applied to the cigar. Man, some of you are rolling like you're still drunk."
Laughter erupted in the room. Everyone seemed comfortable with the unwritten rules of the competition: If you roll well, you are complimented, if you roll poorly you get a good zing from the hosts.
As the session came to a close, Giannini got off the floor and went back to the stage where cigars were collected for review.
"If you think you have a great cigar, bring it up. If you think you have a god-awful cigar, we want to see that too." Additional prizes are actually awarded to the ugliest cigar, as well as to the most creative.
John "Bones" Malone took home two La Gloria Serie R Limitada Humidors for rolling the best cigar.
Giannini paused for a moment and held up a cigar that one of the audience members presented to him. It was the size of an overgrown cucumber.
"Excuse me ladies and gentlemen," he said with a smile, "but I think I have to go wash my hands after touching this."
But the insults paid off. The roller of that tobacco cucumber won the Ugliest Cigar prize and went home with a box of La Gloria Cubana Reserva Figurados.
Some of the more creative cigars included one wrapped in a dollar bill, one fashioned into a tree, one made to look like a robot and one full of razor blades ("I'm going to call this one 'I Can't Take it Anymore,'" said Giannini). A group of participants teamed up, brought in 100 cigars and made a little tobacco barn completely out of cigars. Rollers of these entertaining (though unsmokable) cigars walked off with boxes of La Gloria Cubana Artesanos de Miami and Serie R.
You must be logged in to post a comment.
Log In If You're Already Registered At Cigar Aficionado Online