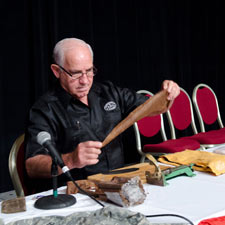 Photos by Sjodin Photography
Leo "The Pope" Peraza's steady hands acted as a guide for participating audience members.
2011 Big Smoke Sunday Seminars: Roll Your Own
Most cigar enthusiasts smoke their cigars much better than they can roll them. And they're perfectly satisfied with this arrangement. But some smokers want total immersion and participation in their beloved hobby, so they try their hands at actually rolling a cigar. A Big Smoke Las Vegas tradition, the Roll Your Own seminar gives attendees a chance to try to assemble a cigar as though they were in a factory. It is hosted by Mike Giannini, General Cigar Co.'s director of Team La Gloria.
On Sunday morning, some 500 well-fed cigar enthusiasts had just finished a hearty breakfast hosted by celebrity chef Charlie Palmer. But when they entered the ballroom, they found that it had been transformed into a cigar rolling gallery. Each seat had a place setting consisting of a hard plastic mat, a razor blade, a wrapperless cigar, and a small cup of vegetable glue, or gomma.
As they walked in, they were handed  a La Gloria Cubana Artesanos de Obelisco to smoke. This is a rare, special-edition cigar conceptualized by Giannini and Team La Gloria to look like an Obelisk, one that was mentioned during Saturday's Size Matters seminar, on which Giannini served as a panelist.
A participant carefully applies wrapper to his cigar.
"Good morning and welcome to the Big Smoke Roll your Own seminar. You know, it's always funny watching you guys roll a cigar," joked Giannini. The constant ribbing and playful jabs are part of the seminar and always have been. "Every year people ask me 'What's the key to rolling a good cigar?'" said Giannini. "And every year I tell them, 'Pay attention to Leo.'"
Giannini was of course referring to master roller Leo "The Pope" Peraza, an inveterate cigarmaker who constructs his cigars up on stage. His deft hands are projected onto large video screens as he works in order for the crowd to follow along. The crowd is shown how to stretch, cut and roll the wrapper leaf onto a cigar. Every roller is handed a piece of perfectly pliable, fermented Ecuadoran Sumatra leaf, the type used to wrap many La Gloria Cubana cigars. They then apply it to the bunch—the combination of filler and binder leaves that awaits a cigar wrapper—pre-bound tobacco bunch already in the shape of a cigar.
Peraza effortlessly cut, stretched and rolled in nearly one motion. Then he did it again, and then again, though he slowed his fluid pace for the audience to observe and follow.
Michael Giannini holds up one of the more creative cigars rolled during the event.
While it is a hands-on tutorial on how to apply a wrapper leaf to a cigar, it is also a competition. At the end of the seminar, the one who has rolled the best cigar would win two 2006 La Gloria Cubana Serie R Limitada Humidors (one natural, one maduro) each filled with 30 cigars.
Giannini had served as co-host of this event for years with former La Gloria brand owner Ernesto Perez-Carrillo. This was the third year Team La Gloria has hosted the event. He paced the room, giving directions and referring to Leo as to cutting and applying the wrapper properly.
"You're not paying attention," Giannini said as he singled out a competitor.
He circulated the room with a microphone, and was joined by Yuri Guillen, production manager for General Cigar and an integral part of Team La Gloria.
You must be logged in to post a comment.
Log In If You're Already Registered At Cigar Aficionado Online