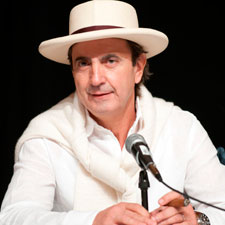 Photos by Sjodin Photography
Litto Gomez, owner of La Flor Dominicana and maker of The Digger.
2011 Big Smoke Saturday Seminars: Size Matters
(continued from page 1)
At the same shaping of cigars is often suggested or contradicated by the leaf. Patel said that thin Connecticut Shade tobacco was a poor choice for a pressed cigar as the leaf is so easily ripped when it undergoes the necessary molding to get that shape. He also revealed that box pressing was not just a cosmetic treatment for a cigar, but that it had very real taste effects as the pressing action takes the air out of the leaves. All agreed the size and shape of a cigar had enormous effect on taste even when the same blend was used.
Gomez said that most of the time it took to develop an odd size or shaped cigar was due to the rolling learning curve. Once it is designed a large number of rollers have to perfect a shape so it can be produced in large enough quantity to be marketed.
Rocky Patel of Rocky Patel Premium Cigars.
The panelists agreed that the size and shape of the cigars we smoke often depends on the retailers and their preference for what to sell. For instance, there seems to be resistance from the stores for the long lancero shape. All agreed as well that presentation inside cellophane wrappers was an affectation done for the benefit of the retailer, who is trying to protect his stock from those who handle cigars while choosing them.
Giannini said that to a great extent, the impetus to forever push the envelope in regard to unusual shapes and sizes comes from the consumer. And, he added, the push from the market for new formats is one that he enjoys catering to. "We just want to have fun."
Big Smoke Evenings
2011 Big Smoke Evenings, Las Vegas
Big Smoke Saturday Seminars
Top Three Legal Cigars of 2010 Tasting
An Insider's View of Cuba Today
Today's Hybrids: The Tobacco Used in Your Cigars
Size Matters
Lunch with Rocky Patel Premium Cigar Co.
Big Smoke Sunday Seminars
Breakfast with Charlie Palmer
Roll Your Own, Seminar No. 14
The Cognac Connection
Big Smoke Weekend Photo Gallery
Slideshow: 2011 Big Smoke Las Vegas Weekend
You must be logged in to post a comment.
Log In If You're Already Registered At Cigar Aficionado Online