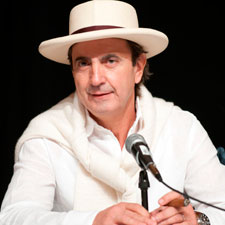 Photos by Sjodin Photography
Litto Gomez, owner of La Flor Dominicana and maker of The Digger.
2011 Big Smoke Saturday Seminars: Size Matters
The final cigar seminar on Saturday was a discussion of shapes and sizes in the cigar world, dubbed Size Matters. "I'm not going to have any double entendres in this seminar," said co-moderator Gordon Mott with a smile, before unveiling a massive La Flor Dominicana cigar called the Digger. The cigar, 60-ring gauge by 8 1/2 inches long, is the size of a club.
The panelists consisted of Litto Gomez of La Flor Dominicana, maker of the Digger; Mike Giannini from La Gloria Cubana, which has built a reputation for crafting unusual shapes, such as one modeled after the Monument to the Heroes of the Restoration in Santiago, Dominican Republic, and Rocky Patel of Rocky Patel Premium cigars, which makes a Salomone.
Discussion covered the new shapes and sizes that are being marketed as well as how the dimensions of a cigar affect how it smokes and tastes. The subject also ranged to production problems attendant to odd cigars.
Patel pointed out that the relative size and shape of a cigar is often driven by the kind of leaf that goes into it. Quite logically, broader, larger leaves lend themselves to large cigars, he said, while smaller leaves are best used on a smaller cigar.
Gomez added that while his Digger is only an inch or so longer, it required a long development period for rollers to perfect the size.
A trend toward larger cigars with fat ring gauges has been alive for the last four years or so, Patel said, with six-inch by 60-ring-gauge being the trendy size. "I can spot who's going to smoke a 6 by 60 cigar when they walk through the cigar shop door," he added.
General Cigar's Michael Giannini.
Gomez has one of the more distinctive and unusual sizes on the market, the La Flor Dominicana Chisel, and he described how it was created. He was driving to his factory in the Dominican Republic one morning while chewing on a figurado, something he rarely does. After 10 minutes of driving and chewing, the cigar was feeling very comfortable in his mouth. When he looked at the end, it had taken on the distinctive chisel shape at the end.
Upon bursting into the factory, he requested they roll him a similar shape, which was done by chiseling a cigar with a blade. "I loved the way it performed," said Gomez. Ten months later it was on the cigar-shop shelves.
When the question was asked if these special shapes and sizes go to the best rollers in a factory to shape, Giannini pointed out that rollers may be the most skilled at making a certain type of cigar, but not necessarily every shape or size made.
Gomez added that the girth of a cigar might also suggest the type of leaves used in it. Chubby robustos might best accommodate thick, oily ligero leaves, he said.
You must be logged in to post a comment.
Log In If You're Already Registered At Cigar Aficionado Online