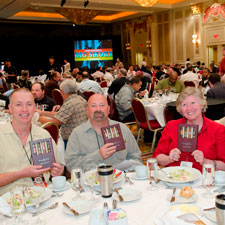 Photos by Sjodin Photography
A table of diners shows off their Rocky Patel sampler packs.
2011 Big Smoke Saturday Seminars: Lunch
Andrew Nagy
Posted: November 2, 2011
(continued from page 1)
Patel talked about the state of the cigar industry today, hitting on the important job the Cigar Rights of America does fighting for the right to "smoke, sell and enjoy a legal product." Patel went on, explaining why cigars are a completely different product from other forms of tobacco.
"Over 300 different pairs of hands touch tobacco to turn it into a cigar," said Patel. He emphasized the cigarmaking process by showing a video of all the steps companies like his take to produce cigars. The video showed how tobacco plants are grown from a seedling, manicured in the field, harvested by workers and, finally, rolled by torcedors.
Rocky then gave the podium over to his brother, Nish, who spoke about his Xen cigar. After him the audience was addressed by Nimish, who gave a rundown on his new Thunder smoke.
Nish Patel speaking in front of the Big Smoke audience.
Dessert was then served; a slice of chocolate pavé cake that featured a thin layer of walnut fudge brownie filled with chocolate coffee mousse atop a cardamom sauce.
While diners ate the savory sweet, CRA executive directer Glynn Loope delivered an impassioned speech about the importance of H.R. 1639. The legislation aims to remove the FDA's jurisdiction over the premium cigar industry by amending the Federal Food, Drug, and Cosmetic Act.
Despite their full stomachs, the crowd let out a few approving hollers as Loope spoke.
"Don't think of yourself as a cigar smoker," said Loope. "Think of yourself as a cigar voter."
And with those resounding words, the luncheon ended.
Big Smoke Evenings
2011 Big Smoke Evenings, Las Vegas
Big Smoke Saturday Seminars
Top Three Legal Cigars of 2010 Tasting
An Insider's View of Cuba Today
Today's Hybrids: The Tobacco Used in Your Cigars
Size Matters
Lunch with Rocky Patel Premium Cigar Co.
You must be logged in to post a comment.
Log In If You're Already Registered At Cigar Aficionado Online