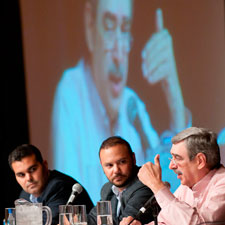 Photos by Sjodin Photography
Christian Eiroa, Nestor Plasencia and Manuel Quesada spoke to attendees about hybrid tobacco.
2011 Big Smoke Saturday Seminars: Today's Hybrids—The Tobacco Used in Your Cigars
(continued from page 1)
As well as designing tobacco for flavor and durability, Plasencia said, he can fine-tune a strain to take advantage of the soil conditions in the region it will grow in.
Big Smoke Evenings
2011 Big Smoke Evenings, Las Vegas
Big Smoke Saturday Seminars
Top Three Legal Cigars of 2010 Tasting
An Insider's View of Cuba Today
Today's Hybrids: The Tobacco Used in Your Cigars
Size Matters
Lunch with Rocky Patel Premium Cigar Co.
Big Smoke Sunday Seminars
Breakfast with Charlie Palmer
Roll Your Own, Seminar No. 14
The Cognac Connection
Big Smoke Weekend Photo Gallery
Slideshow: 2011 Big Smoke Las Vegas Weekend
You must be logged in to post a comment.
Log In If You're Already Registered At Cigar Aficionado Online